Dear People of St. Alban's:
During church services yesterday I introduced Suzanne Hicks, Executive Director of Hope for Humanity, Inc. Hope for Humanity is a non-profit based in Richmond, VA, and the organization that built the Hope and Resurrection School in the South Sudan. St. Alban's has supported the work of the school for many years now. The people of St. Alban's have funded the construction of a Girl's dormitory, provided student scholarships and paid the salaries of teachers and administrators.
Here's a photo of students celebrating as the dormitory St. Albans funded was under construction a few years ago: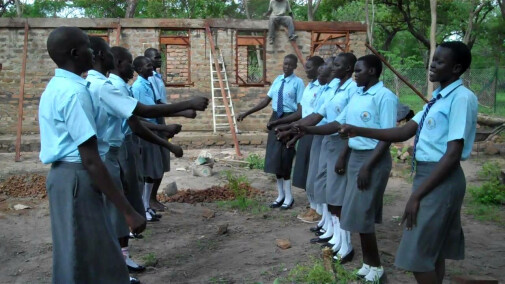 During Suzanne's visit she handed me one of the favorite things I like to receive from the school, a letter written to the parish from one of the students we are supporting. Here's the news Deborah has to share with you:
DEAR PEOPLE OF ST. AlBAN'S:
Greetings to you from across the seas. Hope you are fine there as I am here. I was glad and pleased to receive a letter of hope and encouragement from you dear friends, I am happy that I received your photos as well which I have seen to know who you are, when I thanked God for creating such kind people.
I would love to assure you that you have removed my parents from burden of paying my school fees and you have made me part of the achieving group.
My parents appreciated your support more than I can imagine, I am proud of you as you are proud of me here. And I promise to work hard to do better.
I hope for change in South Sudan and my bright future after my studies. Also what makes me come alive; is that the first thing is life as a gift from God and I thanked God for the gift of life; other thing is my parents love and care they have for me, because my father has more than 25 children and still have great love for me and the most important one is your support and courage I got from you paying my school fees.
Yours Sincerely,
Deborah
Thank you Deborah, for being proud of us as we are proud of you, too. And we thank God for creating people like you. With you we promise to work hard and do better as well. Your future is indeed bright, thanks be to God. We will hope and pray for change in South Sudan, and do what we can to help make that change happen, partly by educating girls like you who will make that change possible.
Yours Sincerely,
The People of St. Alban's
Learn more about Hope for Humanity here.
Happy Monday,
Jim+