Coming Home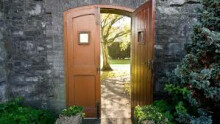 In the last two days, my colleagues Jo and Jim have shared from the riches of their experience at Parish Weekend, when a group of us gathered in Buckeystown, MD, to spend time together, to sing and tell stories, to relax, to pray. One of the great gifts about such a time apart together is that each person brings something home, and it's not necessarily the same thing. Which is a way of saying: who am I to buck the trend?
On Saturday morning, Jim and I asked the group to spend time discussing three questions, one of which was, "When has liturgy been transformative for you"? The discussion was generous and vulnerable; people were able to name and describe times of great meaning in their lives. I was struck by how many of the memories shared were of coming home to church, by which I mean, not going back to the church of your childhood, but coming to church for some reason -- a wedding, a funeral, a desire to sing Christmas carols -- and suddenly realizing, This is where I belong.
That moment of being claimed by something we can't even articulate is the living heart of our faith, of knowing, on a deep level, that this place, these people (whom I do not even know yet), are mine -- and I am theirs, even if I have no idea what that means.
I've been ordained fourteen years now, and I still don't know what it means. I have fancy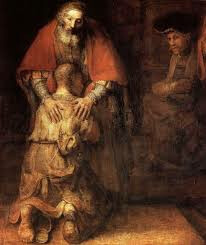 words for it: Grace. Koinonia. Agape. And I can know what it feels like: that sudden soaring open of the heart. But what it means? It means we are made to make our homes with God. (Figure that.) It means our hearts are restless until we find our rest in him. (Why should that be?)
At best, I can return in my mind to a small chapel, on quiet day, two weeks before Christmas. The chapel is mostly empty, except for three of the friends of my right hand, a priest, and another young woman. I walked there that morning, caught between eagerness and trembling, and now she and I stand before the priest and he cups water in his hand and says some words, and the Heavens do not open, and no angels start to sing that I can hear. But when we turned away, I had come home in a whole new way, a way that is still unfolding in my life.
When it was over, my friends and I went to a diner and ate breakfast. It was simple and joyful and completely right. This, too, was home, and a promise: that no matter where we go, God is already opening hearts to receive us. That there will be friendship and laughter, an open door, an inexplicable gathering of light. It is all gift, all of it, and the only thing we can do is hold out our empty our hands, and walk in.