Breaking Silence, Holding Still and Enlarging our World
The Lenten book group that I joined has been reading Christ on Trial: How the Gospel Unsettles our Judgment, by Rowan Williams. It's a spectacular little book and in comparison with much of Williams' writing it's eminently readable! We'll finish the book over the next two weeks and our final discussion will take place during Holy Week. Thus far we've pondered Jesus' varied responses to the authorities bent on condemning him in the synoptic gospels - Mark, Matthew and Luke. Each of the three chapters we have discussed as a group have left me with unforgettable "takeaways."
The first is about breaking silence. From Williams' reading of The Gospel According to Mark (that's the one where for most the narrative Jesus tells people to "tell no one" about his work) it is at his trial when Jesus finally "breaks his silence," revealing his true identity, and does so for a specific reason: only then did people have the capacity to hear him. We know what that's like, right? We know what it's like to be so convinced of one reality that we cannot hear another? The takeaway for me here is twofold: On one hand, when God seems silent maybe its because I'm just not ready to listen so God remains mute (when the student is ready... the teacher will arrive). On the other hand, as imitators of Christ, when, and for what reasons, are we called to break the silences of our own lives?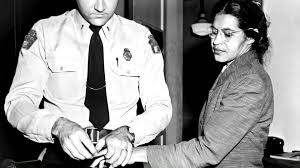 I think here of Let Your Life Speak, a marvelous reflection on discipleship written by Parker Palmer. In it he uses the example of Rosa Parks, who, on December 1, 1955, finally decided to let her life speak as she sat down in order to stand up against racism. While our circumstances may not be as profound as Mrs. Park's (???), what stand might God be calling us to make with our lives, I wonder?
From Williams' reading of Jesus on trial in Matthew's gospel the takeaway for me is the importance of "holding still." In contrast to Mark's perspective, in Matthew Jesus doesn't speak up, at least not in the same way. In Matthew rather than answering questions about his identity Jesus "holds still," letting the circumstances (and the outcome) of his trial speak for themselves. He lets the powers that be (and the crowds) hear the sound of their own madness. "Fools rush in..," as they say, and the takeaway for me here is the importance of holding still when we are tempted to react.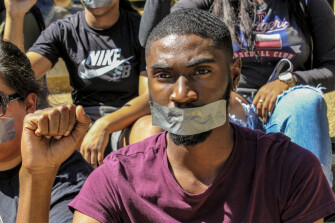 Before condemning this or that system or this or that behavior in another we benefit from holding still in the midst of our circumstances and considering that which is the result of our own complicity and our own sin. At St. Alban's we've recently started to enact the power of holding still in our liturgies. We're practicing periods of silence after sermons and after the breaking of the bread in the Eucharist - we're holding still before God, letting our tradition and our preaching speak to us in deeper ways. We're also holding still with one another.
The last takeaway in our Lenten reading group's work thus far is the importance of enlarging our world through the act of listening. In his interpretation of Luke's Gospel, Williams identifies how in that narrative the reality of God is often found in encounters with the stranger or outcast or outsider; with people without a voice. Here I find Williams to be his typically brilliant self as he makes an important and subtle distinction: that being the fact that we don't discover the reality of God in the voiceless outcast or outsider by virtue of their status but rather in the quality of our encounter with them. In other words, we don't encounter God in the poor or the mentally ill because God is more present in them than God is present is "us" but we encounter God when we listen to the "other" long enough to enlarge our world and to resist the temptation to treat our own perspectives as if they were God's. In this third chapter Williams calls upon the work of ethicist Stanley Hauerwas and the great Jean Vanier (founder of the 'L'Arche communities) and reminds us that in calling people handicapped we are using a word that rapidly tells us what is the most important fact about them, and which therefore already expresses the problem of our limited world (or worlds).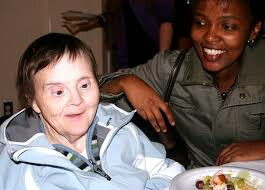 Here's a good summary: [The stranger] represents the fact that I have growing to do, not necessarily into anything like an identity with them, but at least into a world where there may be more of a sense of its being a world we share. Recognizing the other as other without the immediate impulse to make them the same involves recognizing the incompleteness of the world I think I can manage and moving into the world which I may not be able to manage so well, but which has more depth of reality. And that must be to move closer to God."
In the next two weeks in the church we will put Christ on Trial. In our hearing may each of us move closer to God.
Happy Monday,
Jim