Bless Our Boat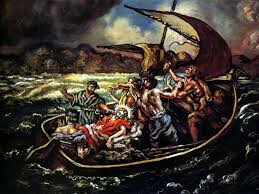 Last Sunday's Gospel lesson relayed the story of Jesus and the disciples crossing the Sea of Galilee, and their boat was swamped during a squall. There were certainly messages of theological importance in the reading, but what grabbed me was feeling swamped. This last week, perhaps like you, I felt morally buffeted, splintered, frightened, and emotionally swamped.
Thank goodness I was in church for the lovely bilingual service, where something marvelous happened. Sitting in the choir's front row, singing the communion hymn God Is Love, I was acutely aware of all the people passing in front of me on their way to the Lord's Table: beautiful golden toddlers, fairly racing their parents to the altar; senior parishioners struggling to make it up the steps; our Spanish speaking worshippers, some equipped with little English and seeking reassurance of safety; couples whose loving relationships had been illegal and demeaned not too long ago; newcomers; parishioners in mourning or with life-limiting illnesses; friends of all shades and accents reaching out in affectionate greeting . . . .
God is Love: and he enfoldeth
all the world in one embrace;
with unfailing grasp he holdeth
every child of every race.
And when human hearts are breaking
under sorrow's iron rod,
then they find that selfsame aching
deep within the heart of God.
Hymn 379, 2ndverse
I sang the hymn with a lump in my throat and tears welling up. Surely this is how the Kingdom of God appears. Thank God we are all in this boat together, and Jesus is with us in the storm. May we remember that God's peace is present if we seek it, and may we bear witness to that peace with faith.
God is Love: and though with blindness
sin afflicts the souls of all,
God's eternal loving-kindness
holds and guides us when we fall.
Sin and death and hell shall never
o'er us final triumph gain;
God is Love, so Love for ever
o'er the universe must reign.
3rdverse