A New Year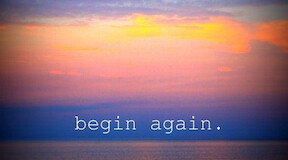 So if anyone is in Christ, there is a new creation: everything old has passed away; see, everything has become new.
From 2 Corinthians, 5
Happy New Year!
We are still in Christmastide, celebrating and reflecting on the birth of Christ even as we turn over our calendar to 2018, probably with a party. Aside from sharing the same days in early winter, these two events—one sacred, one secular—don't seem to have much in common. I've been thinking that, for myself, I need to change that.
Last year was my year of too many grumbles. With a personal and global 24-hour news cycle in my brain, I've been unhappy with too many things and too many people. I've been upset that compassion often seemed out of sight, obscured by ugliness. At times I've despaired that the world's citizens may not be capable of being what we could be, should be. I've talked to enough of you to know that I'm not alone in some of these feelings. Grumble, happy new year, grumble.
On this cold night, however, I look at the manger scene in the living room and am ashamed. The great gift of God becoming fully human imbues us with passion to become a new creation … if we but welcome it. At the top of my stairway, a calligraphied "Behold, I make all things new" nags at me. For too long, I've been thinking, "Okay God, then do it. Make things new. Fix all this." But the incarnation didn't just happen 2,000 years ago in Bethlehem; God is incarnate in you and me, not just in the baby Jesus. I must make things new—it's my job, and yours.
My New Year's prayer (more intimate than a resolution?) is to resign from grumbling and despair. It is to make a portion of this new creation I've been waiting for God to make, "to be the change I wish to see in the world." (Ghandi). My prayer is to thank God for the millions of people doing heroic work, to hold up countless almost-miracles, to shine a light on what is good and lifesaving and joyful, and to do a new thing in God's name.
Thanks be to God for a new year to plant and nurture the love that came to us at Christmas.