Living the Way of Love: A Lenten Retreat
Saturday, March 16, 2019, 9:00 AM - 3:00 PM
Gift yourself time to replenish your spirit and reclaim Jesus' way of love. Join Mary Bea Sullivan as she incorporates material from her latest book Living The Way of Love: A 40-Day Devotional in exploring seven Jesus-centered practices that can help us focus our energy on living the way Jesus lived—the way of powerful, liberating, redemptive, world-changing, unconditional love.
The retreat will draw upon 6th century Benedictine wisdom made accessible to busy 21st century lives. There will be time for small group discussion, silence, and creative expression. Lunch is included.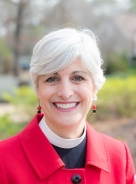 Mary Bea Sullivan is an Associate Rector at Saint Luke's in Birmingham, Alabama. She is a graduate of Virginia Theological Seminary and served St. Alban's during her Field Education placement in 2012 and 2013. She is the chair of the Commission on Spirituality in the Diocese of Alabama and on the faculty for the Metagem Institute. Mary Bea is married to the Rev. Dr. Malcolm Marler and they have two adult children, Brendan and Kiki.