Out of the Comfort Zone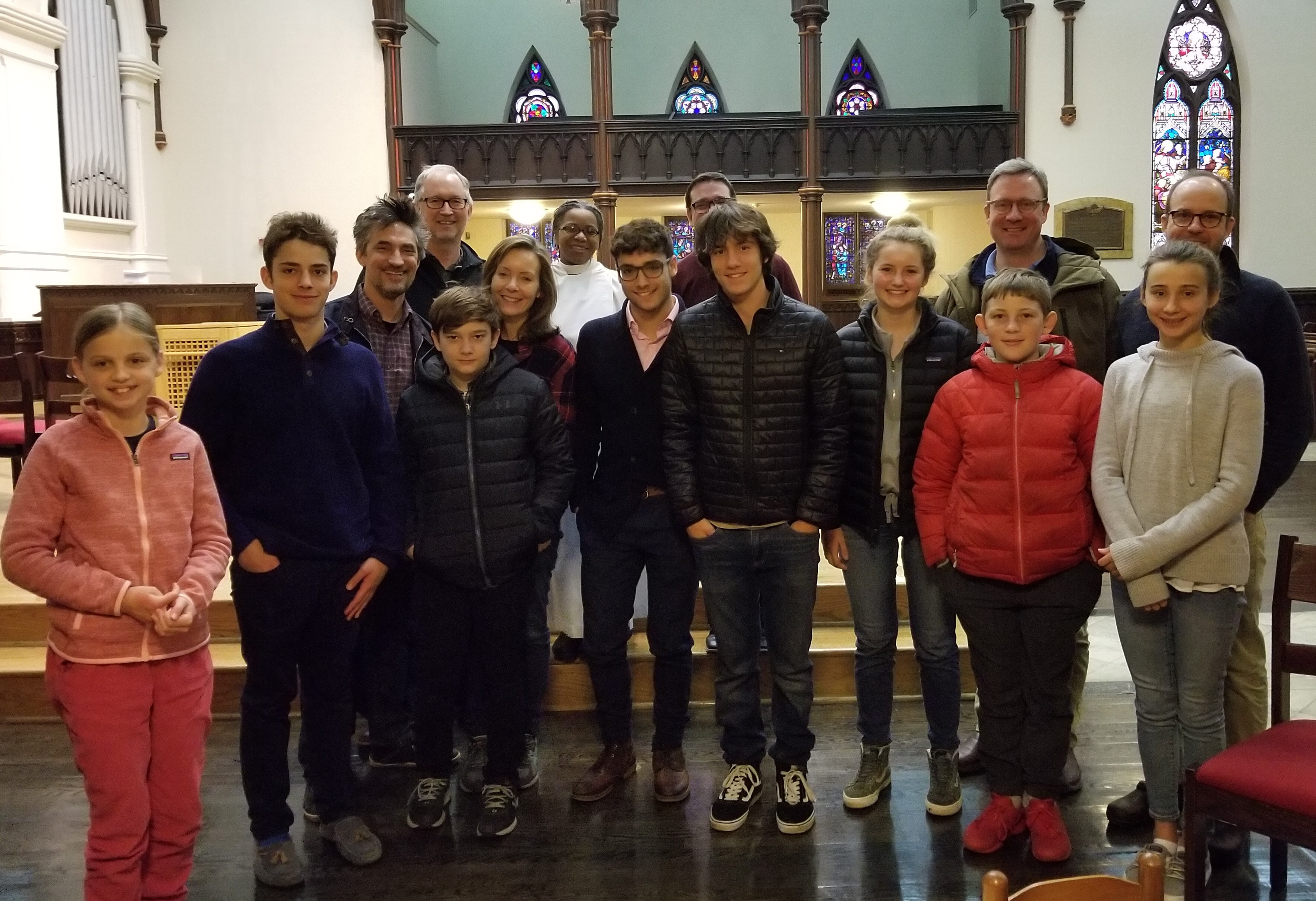 My name is Audrey O'Beirne and I am 12 years old. I and about 10 other youth from St. Alban's, along with some of our parents, went to the Church of the Epiphany in DC. This church was ginormous. Not as big as the Duomo di Milano but pretty big. A gathering of people stood outside of the church's doors. They were bundled up in clothes; big, bushy coats; hats; and some carried bags with their belongings. One man knocks on the door. The door finally opens to reveal a nice welcoming church inside.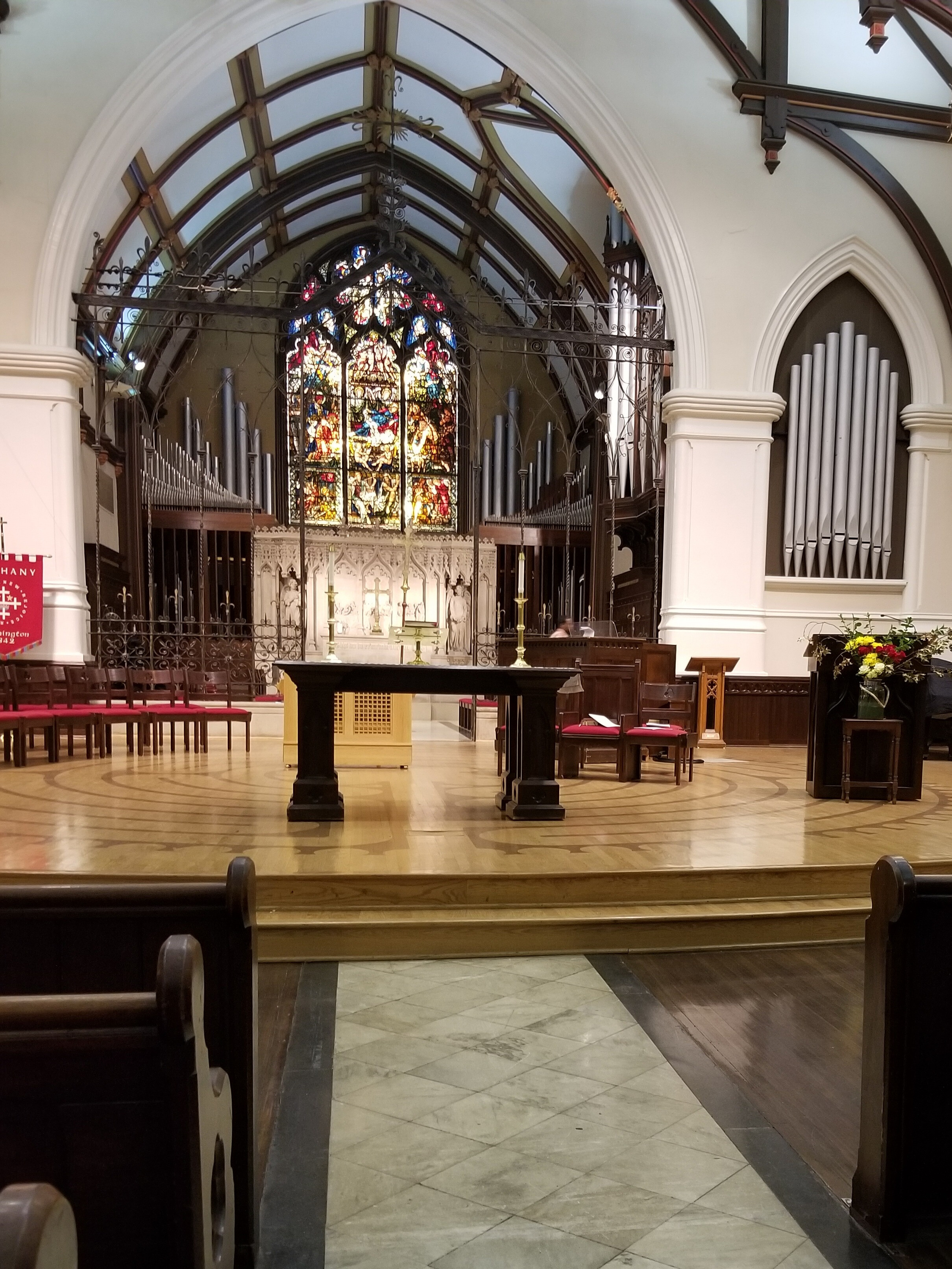 As we stepped inside we saw rows of church pews. Many of them are filled with men and women waiting for the church service and breakfast to begin. As we take our seat, my mom and I look at the front of the church. We look at the gorgeous stained glass windows along the sides of the church and behind the altar. I saw the labyrinth that spins around itself until it gets to the middle--God's heart.
We choose to sit at the front of the church. My mom and I sit there and gaze at all the aspects of the church. I ask my mom what she is looking at. She said that if you listen and look you can notice a lot of things. I noticed that a lot of the people in the church were constantly coming in and out of a door. I wanted to go in and see what was going on but remained at my seat.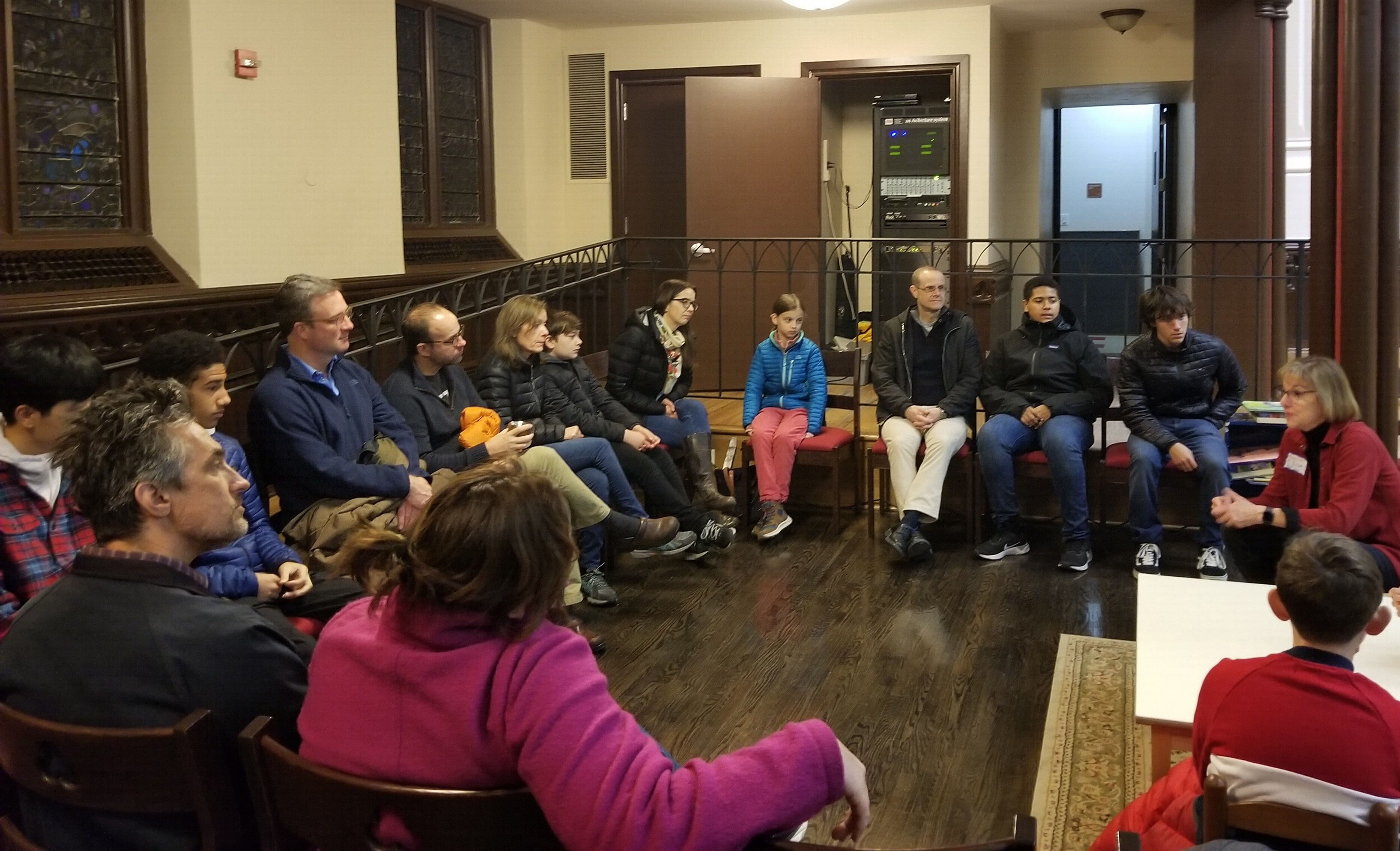 After a short while we were all called to a pleasant little seating area with a lady named Lisa. Lisa said that we would be sitting with the people and talking to them. There were four options on what we could do. We could sit with the men and women and do art, sing in the choir, do a Bible study, or talk with some who are addicted to drinking and/or smoking. I choose to do art and Lisa led the people who wanted to do art (which was almost everybody) through the door I really wanted to go through, past the kitchen, and into a big open space.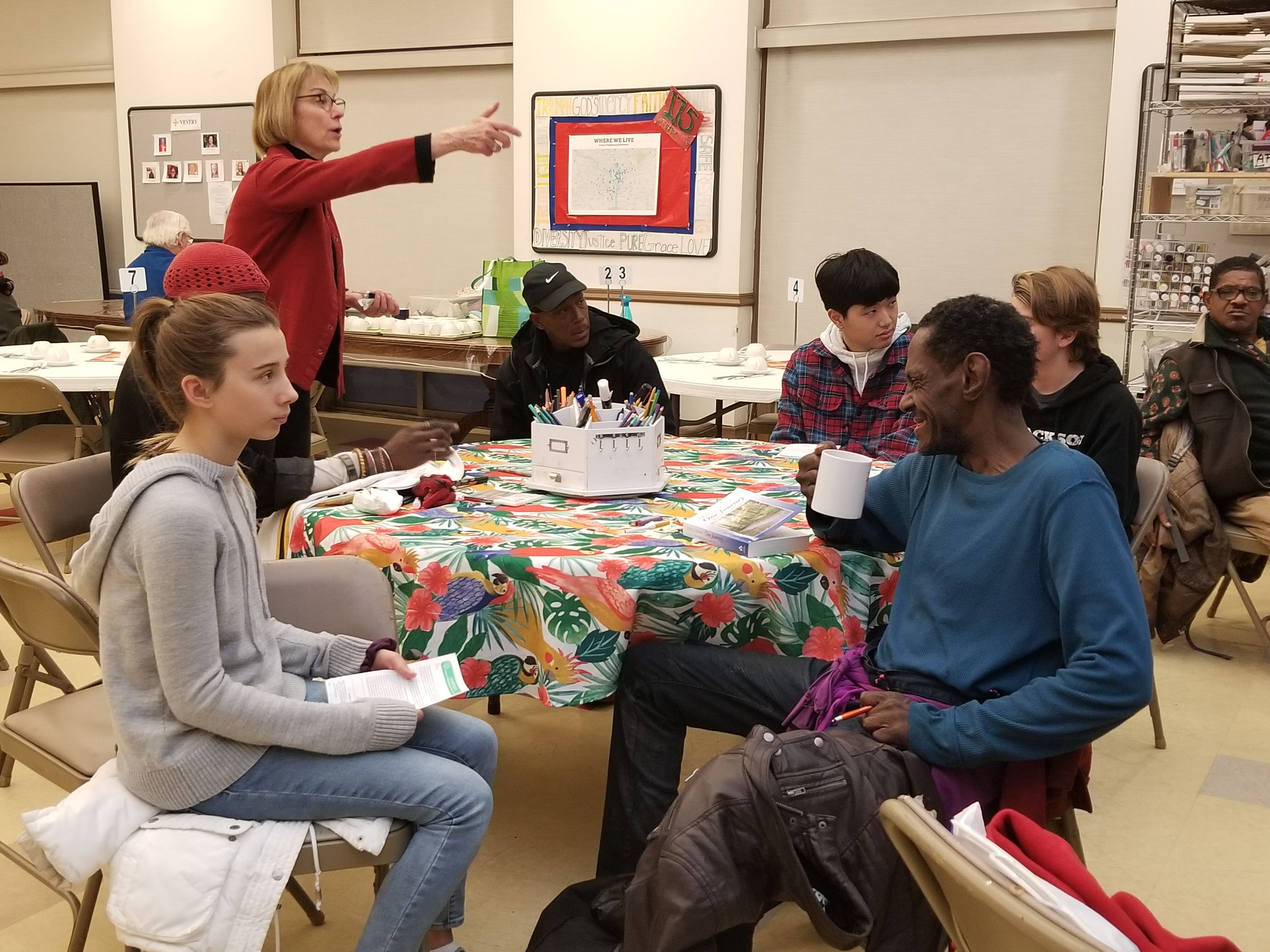 There were round plastic tables with tablecloths on top of them. A man showed us his paintings,they were colorful and all represented a story in the Bible. Lisa told us we could sit down and that we could feel free to use any art supplies. Before we could do art we read something from a little slip of paper. After that I took some paint off the shelf and sat down next to a man named William. He was very nice and we talked about my painting and his pastel drawing. William was a very fun person to be with. I felt very happy just to be sitting there and talking to people outside of my comfort zone. Soon it was time to go in for the church service.
As I sat there listening to the service, I thought that it was very unique from our St. Alban's church service. After the service was over, numbers and names of people were being called. The people who were called got up with all their belongings and walked through the door we went through to do the art. Finally my number was called.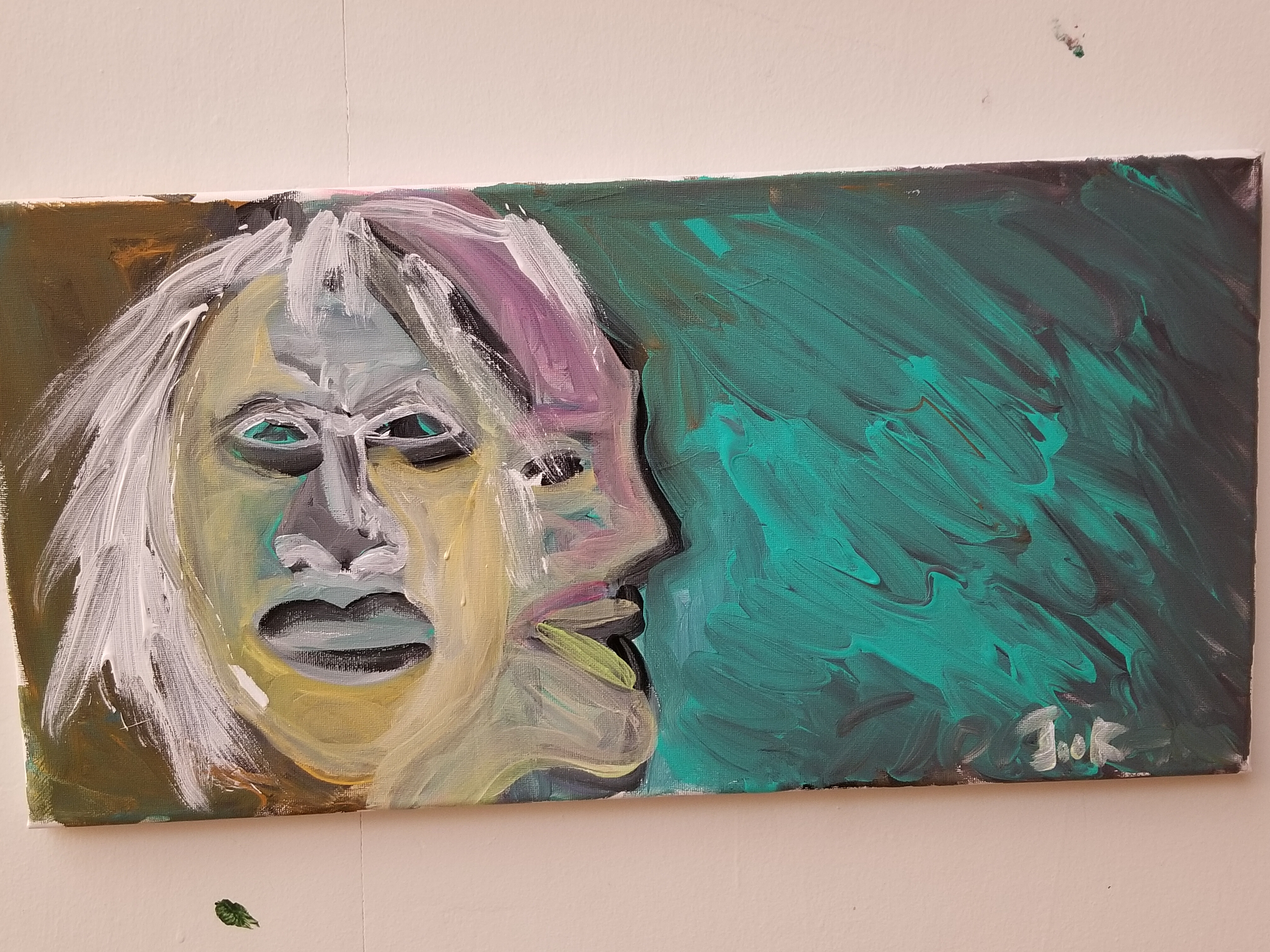 My mom and I waited in a line to get our breakfast. The breakfast was being served by three people. For breakfast that day was a bowl of berries, a plain biscuit, eggs, and grits. When we got our food we were directed to a table. We sat down and smiled to the others sitting at our table.
After breakfast the priest called us to the same place we began with Lisa. We had a little reflection time and we had to say one word that described the morning. Interesting. That was my word. I found it very different from Saint Alban's. I think a lot of the other people who came from Saint Alban's also found it a little bit different. But I thought it was a really good chance to get out there, get out of our comfort zone, and try something different just like the priest said to us at the end. She said even at school just try and get out of your comfort zone: talk to someone you don't know, sit at a lunch table you don't know, try and take a class that you don't know, and maybe that will pay off.
I found going to the Church of the Epiphany was very rewarding for me. I felt like I'm a better person just because of it, just going to see different people, going to meet different people and I felt so happy just being there and talking to everybody and I felt glad that I went--Blessed.