One Parish, Two Languages
You have by now heard the phrase "One Parish. Two Languages." This represents a significant shift for all of us regarding the status of our parishioners who prefer to worship in Spanish.
(Traducción al español a continuación)
I will not here recount the history of what has been first a separate congregation housed at St. Alban's and more recently an adjunct ministry of our parish. This quasi-separation has left our brothers and sister vulnerable to the winds of change. If separate, what level of support is desirable? If adjunct, are those who worship in Spanish objects of majority English speakers' ministry? In any event, I have preached that "separate is vulnerable" and have sought to make sense of what it means to have people who prefer to worship in Spanish at St. Alban's.
What I and our vestry leadership are seeking to do is not only "make sense" of where we find ourselves, but secure a strong vibrant future for those in our congregation who worship in Spanish as full, honored, respected and valued members of St. Alban's Parish. What we have going forward is a liturgy of St. Alban's for our parishioners who prefer to worship in Spanish--even when they are fully bilingual and bi-cultural as many are. They will be served by all the clergy of the parish, with Emily Griffin as the point person for our new representative planning group. This change does not mean an increase in the number of bilingual liturgies that we offer. It will, of course, require adjustments in attitude for every one of us as we navigate what it means to be one congregation worshiping in two languages.
The biggest change that is that we will have to address the largely unconscious assumptions that many of us carry about others. The reality of offering a Spanish liturgy for people who are fully members of St. Alban's and who prefer to pray in Spanish, means that "they" are now "us" and we are in ministry together. Technical challenges will have to be addressed, such as ensuring that all our communications are in both English and Spanish.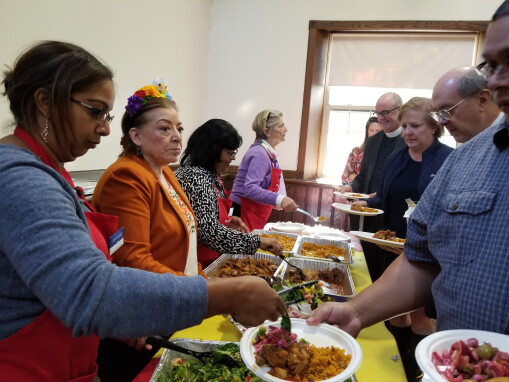 More challenging for some of us will be making sure that everyone can participate in programming designed for everyone. So we won't be able to offer a 10 o'clock service in English in the summer, followed by an 11:15 service in Spanish. This is not only because of the strain a tight turnaround time places on our altar guild and other worship groups, but also because offerings such as Strawberry Sunday must be accessible for our whole parish. So, next summer we will likely have a 9 a.m. service in English and 11:15 a.m. service in Spanish, with the Spanish liturgy fully accessible to those who do not speak Spanish (as is the case today.) We need to ensure that as much attention and as many resources are devoted to excellence at this service as at any other service offered to the glory of God in our parish. These are technical changes but they will nonetheless require something of every one of us as we move into this new reality.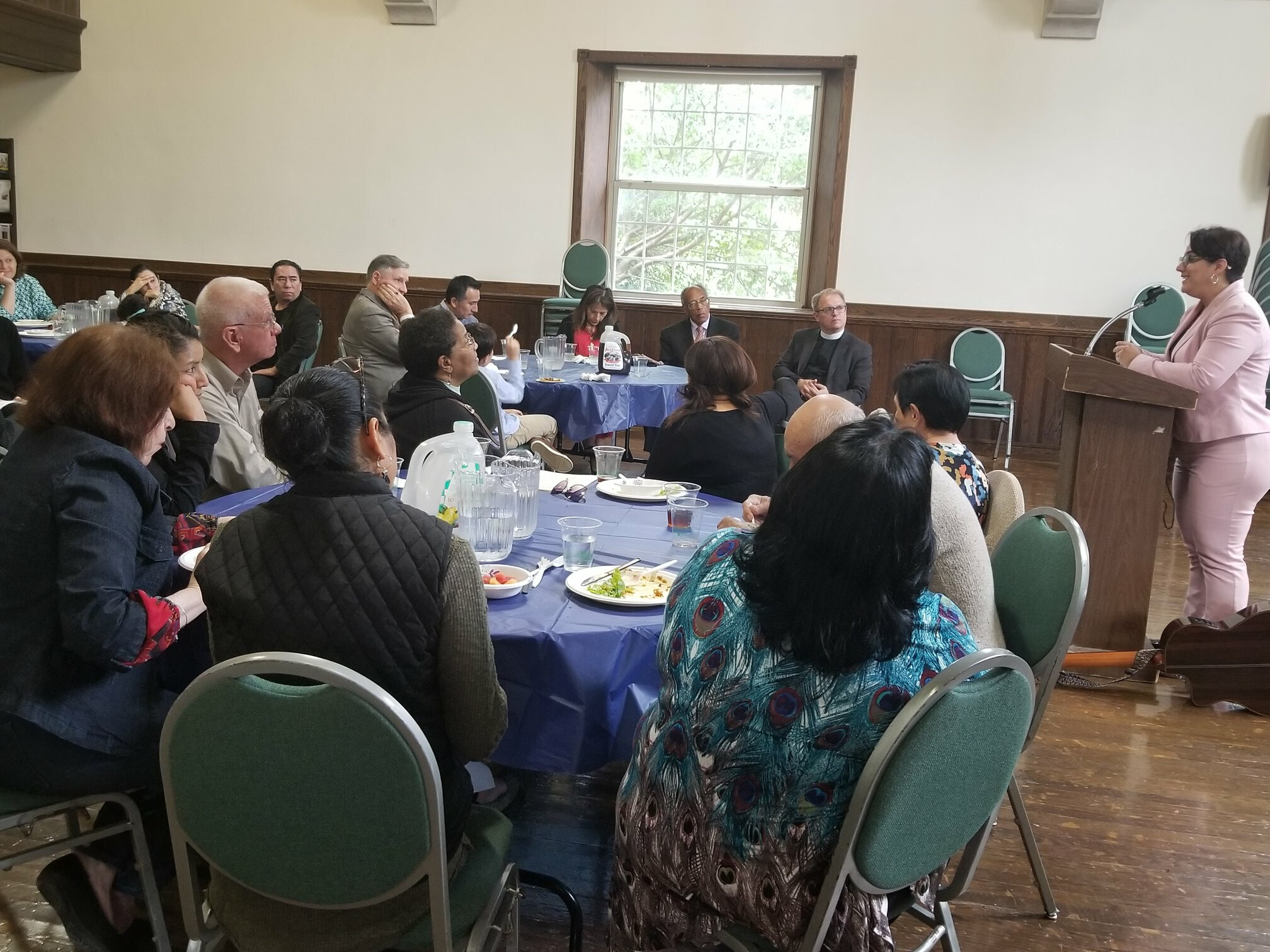 We were blessed recently to have with us The Rev'd Stephen Carlsen and Ms. Yuri Rodriguez from Christ Church Cathedral in Indianapolis. They told their story, including how they determined almost unilaterally that they were going to move in the direction of becoming one parish in two languages. They shared the challenges of providing excellent music in the vernacular of Latino rhythms and sensibilities. They shared many of their missteps along the way but offered us encouragement and the promise of many blessings from being more fully the church than we have ever been in the vision of the Acts of the Apostles and the letters of St. Paul.
One regular worshiper at our distinctive 8 a.m. liturgy asked me what he could do to help. I suggested that he pray for our parish as we navigate this significant shift in understanding and that, if possible, he attend the Spanish liturgy on occasion and learn the names of some who are regulars at that equally distinctive liturgy.
We have begun the journey, and where it will lead every one of us spiritually and us together as a congregation has yet to be made manifest. I continue to be convinced that we are putting in place a workable, sustainable and secure model for those who prefer to worship in Spanish as members of St. Alban's.
Puede que ya hayas oído la frase "Una parroquia. Dos idiomas". Esta representa un cambio significativo para todos nosotros con relación al estatus de nuestros feligreses que prefieren adorar en idioma español. Yo no contaré aquí la historia de lo que ha sido primero una congregación separada dentro de las propiedades de St. Alban´s, y más recientemente un ministerio adjunto de nuestra parroquia. Esta casi separación ha dejado vulnerables a nuestros hermanos y hermanas ante los cambios de viento. Si estamos separados, ¿qué nivel de ayuda es desable? Si estamos adjuntos, ¿son quienes adoran en español objetos del ministerio de la mayoría de habla inglés? En cualquier situatión, yo he predicado anteriormente que "separados significa vulnerables", mientras he intentado buscarle sentido a lo que significa tener un grupo que prefiere adorar en idioma español en St. Alban´s.
Lo que yo y la Junta Parroquial estamos buscando es no solo "buscarle sentido" a dónde nos encontramos, sino también asegurar un futuro fuerte y vibrante para aquellos en nuestra congregación que adoran completamente en idioma español como miembros plenos, honrados y respetados de la Parroquia St. Alban´s. Lo que tenemos de aquí en adelante es una liturgia en St. Alban´s para nuestros feligreses que prefieren adorar en espalol, incluso aunque estos sean completamente bilingues o bi-culturales, como de hecho muchos de ellos son. Ellos serán servidos por todo el clero de la parroquia, con Emily Griffin como la persona principal de nuestro grupo representativo de planificación. Este cambio no significa un aumento del número de liturgias bilingües. Pero sí, por supuesto, requerirá ajustes en la actitud de cada uno de nosotros mientras transitamos a lo que signficia ser una congregación que adora en dos idiomas.
El mayor cambio será enfrentar las grandes concepciones inconscientes que muchos de nosotros tenemos sobre los otros. La realidad de ofrecer una liturgia en español para personas que son miembros plenos de St. Alban´s y que prefieren orar en español, significa que "ellos" son ahora "nosotros" y que todos nosotros estamos juntos en el ministerio. Retos técnicos tendrán que ser enfrentados, tales como asegurarnos que todas nuestras comunicaciones estén tanto en inglés como en español.
Más desafiante para algunos de nosotros será asegurarnos de que cada persona pueda participar en una programación diseñada para todos. De esa forma no podremos ofrecer en el verano un servicio a las 10:00 am en inlgés, seguido de un servicio en español a las 11:15 am. Esto no será posible no solo por el poco tiempo para que nuestra cofradía del altar realice los cambios necesarios con tan poco tiempo entre ambos eventos, sino también porque esperamos que el domingo en que comemos helado de fresa, esté disponible para toda la parroquia. Así que, el próximo verano posiblemente tendremos un servicio a las 9:00 am en inglés y un servicio a las 11:15 am en español, con la liturgia en español totalmente accesible para aquellos que no hablan español (como está sucediendo ahora). Necesitamos asegurarnos que se destina la suficiente atención y recursos para lograr la excelencia de este servicio, tanto como en otro servicio ofrecido para la gloria de Dios en nuestra parroquia. Estos son cambios técnicos, pero ellos requerirán, sin lugar a dudas, algo de nosotros mientras transitamos hacia esta nueva realidad.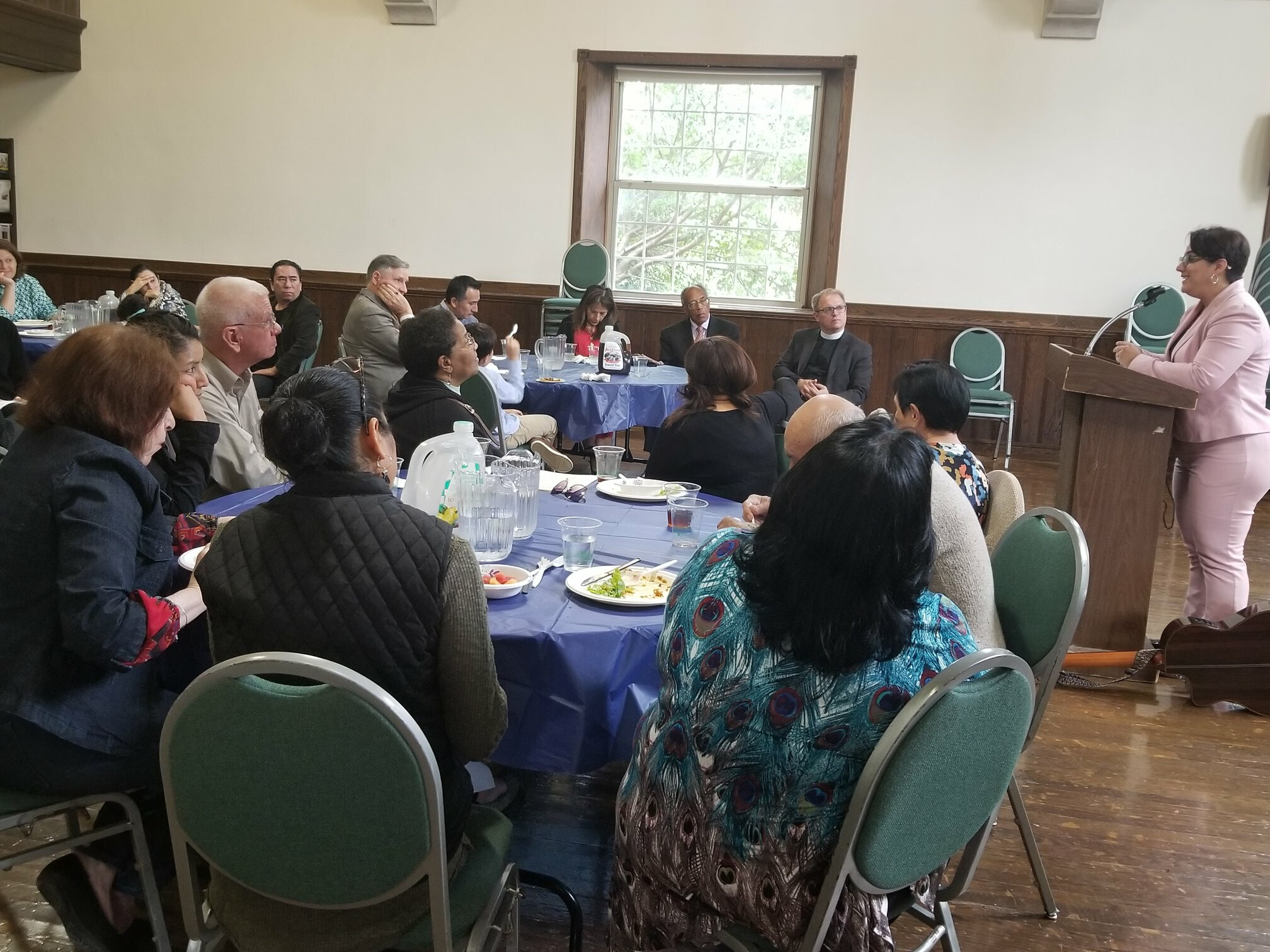 Recientemente fuimos bendecidos al tener entre nosotros al Rev. Stephen Carlsen y a Yuri Rodríguez, de la Catedral en Indianápolis. Ellos contaron su historia, la cual incluyó cómo ellos determinaron, casi unilateralmente, que se moverían en dirección a ser una parroquia en dos idiomas. Ellos compartieron los desafíos de proveer música de calidad en los ritmos y sensibilidades latinas típicas. Ellos compartieron muchos de sus errores durante el camino, pero también nos ofrecieron ánimo y la promesa de muchas bendiciones, al ser más plenos de lo que hemos sido como iglesia, en la visión de los Hechos de los Apóstoles y las cartas de San Pablo.
Un miembro regular de nuestra distintiva liturgia de las 8:00 am me preguntó que podía hacer para ayudar. Yo le sugerí que orara para que nuestra parroquia navegue por este cambio significativo con total comprensión, y que, si era posible para él, que asistiera a la liturgia en español ocasionalmente y que se aprendiera algunos nombres de algunos de los miembros regulares de esa igualmente distintiva liturgia.
Hemos comenzado a caminar, y todavía está por manifestarse a dónde nos llegaremos espiritualmente y juntos como congregación. Yo continúo estando convencido de que estamos desarrollando un modelo funcional, sostenible y seguro para aquellos que prefieren adorar en español como miembros de St. Alban's.