Mission Progress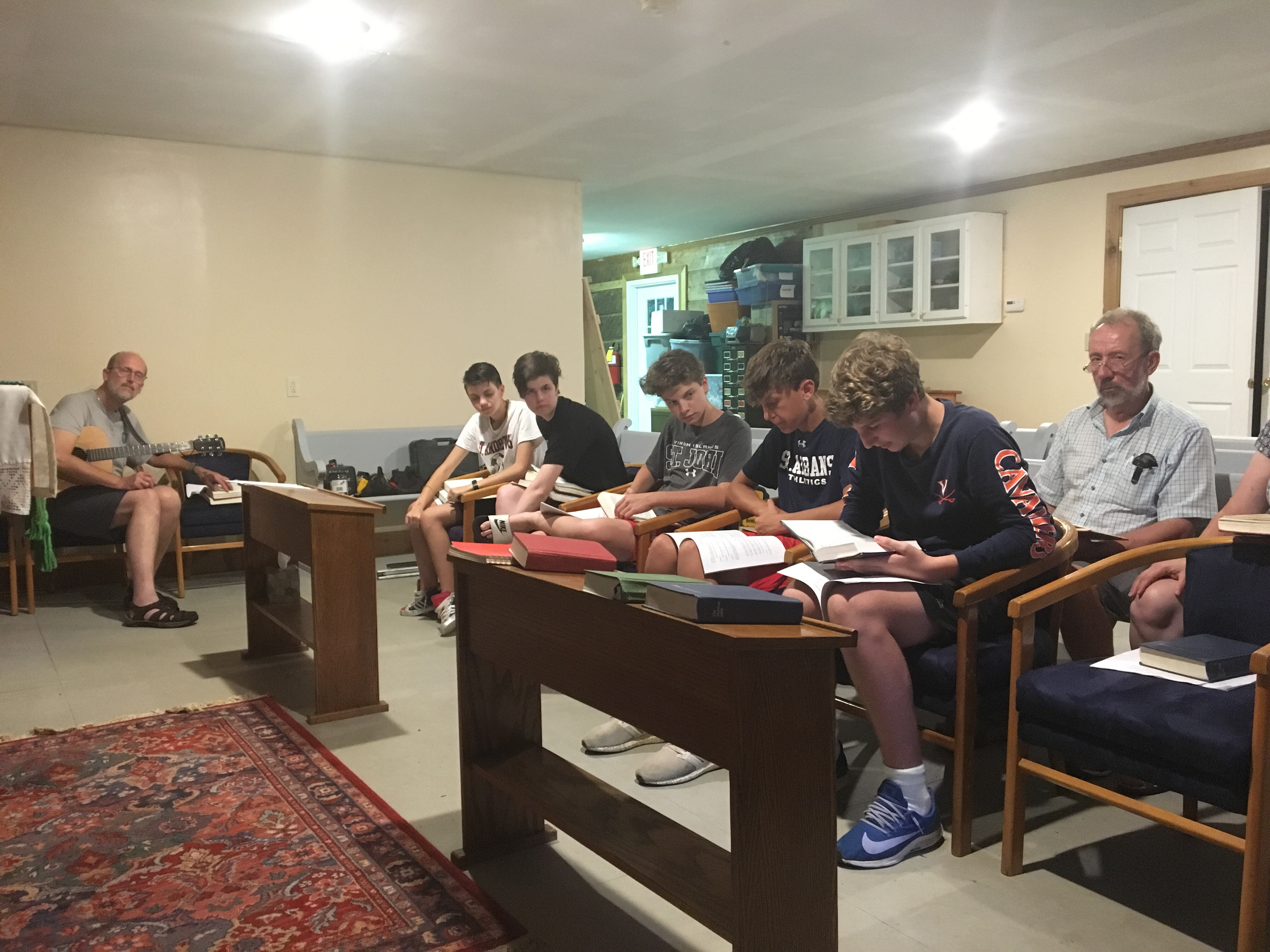 Wednesday, June 19
We began the day with a talk about poverty and population shifts. Bryant said: "In spite of economic change, people in Appalachia don't want to leave." On Barnes Mountain about half of all households bring in less than $18,000 per year through government assistance or part time jobs. Those who make more earn it from Richmond or Lexington. Economic challenges lead to widespread health care issues. This is exactly the kind of community for whom the Affordable Care Act was beginning to make a significant improvement. As elsewhere, employment, education, housing and healthcare are all bound up together.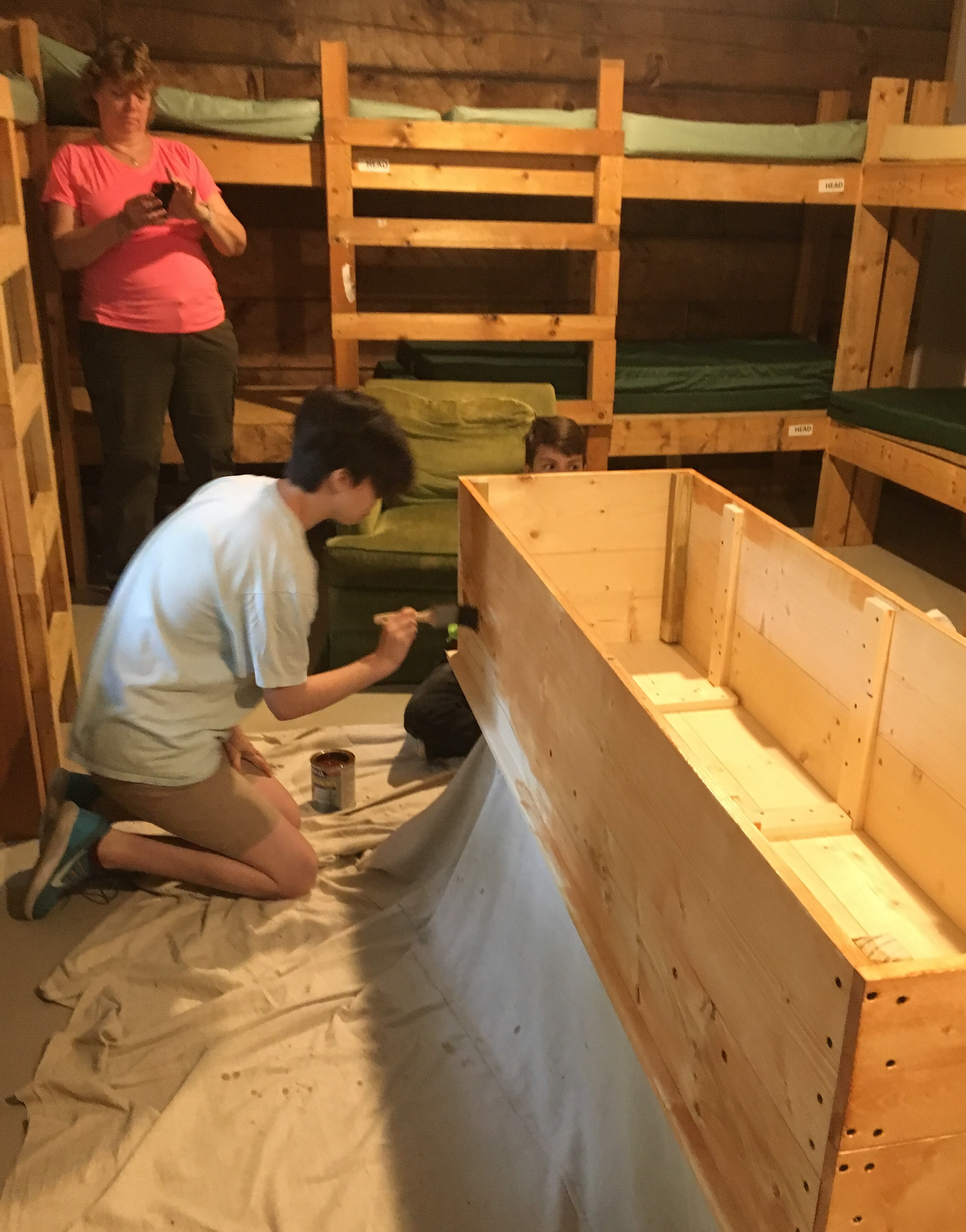 We discussed Hillbilly Elegy by J. D. Vance. Bryant said that most people around here had a negative response to the book because they felt judged and criticized. Nonetheless, there is truth in the book about some of the challenges of motivation and the importance of family in navigating the particular challenges of growing up in the midst of this kind of poverty.
Then to work, finishing our second casket (which will remain in pieces for storage purposes,) staining the first one, and getting a book case ready for painting.
The afternoon became obligatory time off as Bryant had other Diocesan matters which needed attention. We decided to put off some of the tasks he had suggested and take a hike. We drove about an hour to Natural Bridge State Park and took a fairly strenuous 90 minute hike to the natural bridge.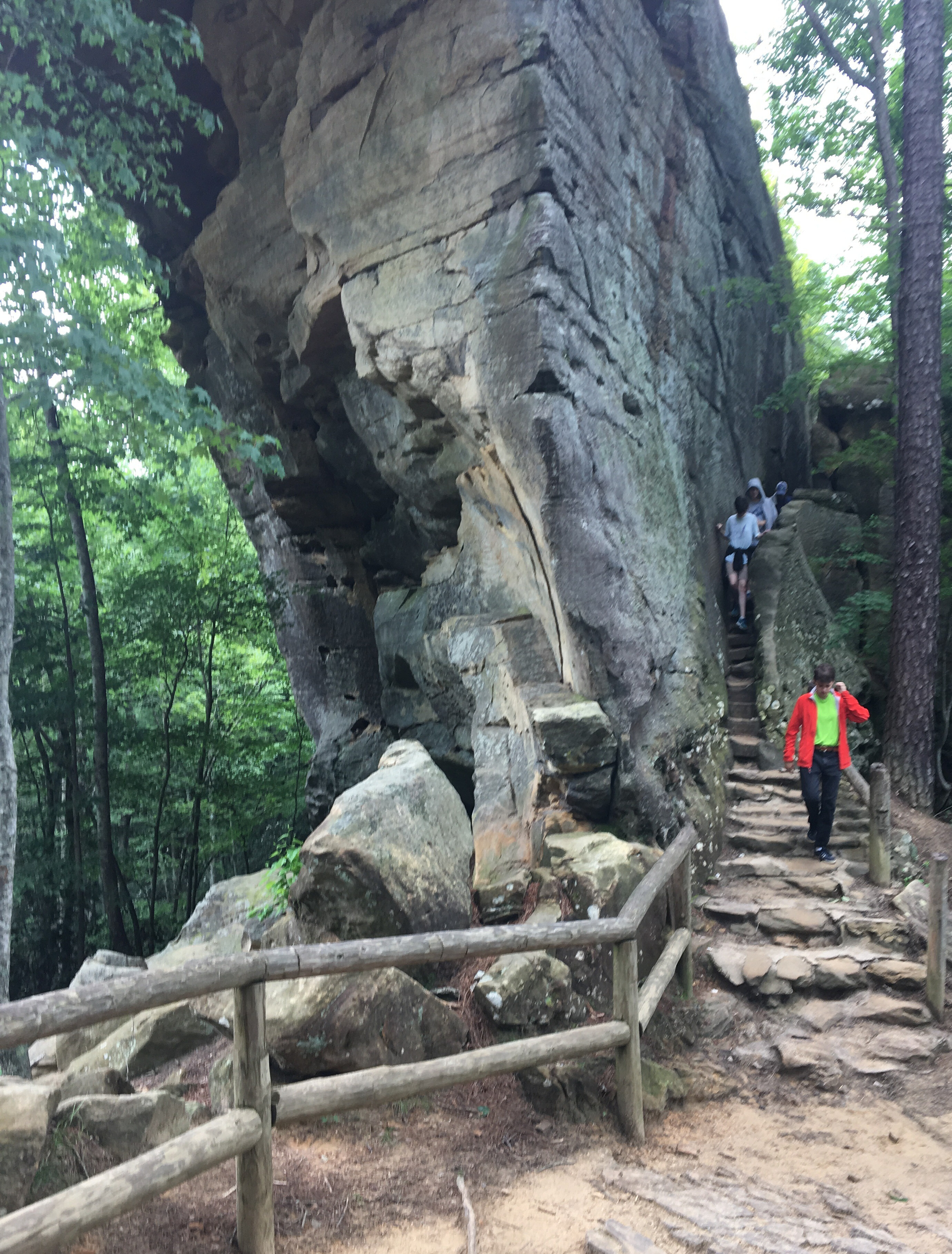 When we returned, the women finished painting the bookshelves and the men re-wired an ancient clothes line.
Supper was pasta and salad, followed by Compline during which we reflected on the Great Commission of Matthew 28. The quality of these brief reflections (what especially struck you today about yourself, others or the nature of our mission?) is really quite remarkable. If there was a theme to this day, it was how surprising it was for everyone to enjoy the hike. We were a little resistant to having an afternoon off since we are here to work, but it turned out to be a real gift.
Tuesday, June 18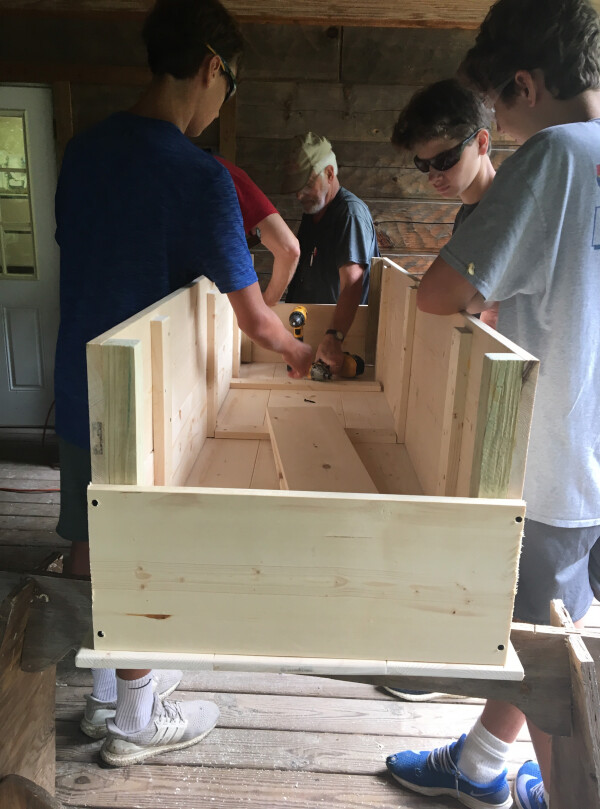 We were back to carpentry today and we are getting quite efficient, finishing one casket and most of a second, along with building some shelving for a member of the community called Ella whom we met last year and probably will again. We began the day with news that Ella had been bitten by a rattlesnake, but later learned that in fact she had been stung by a wasp.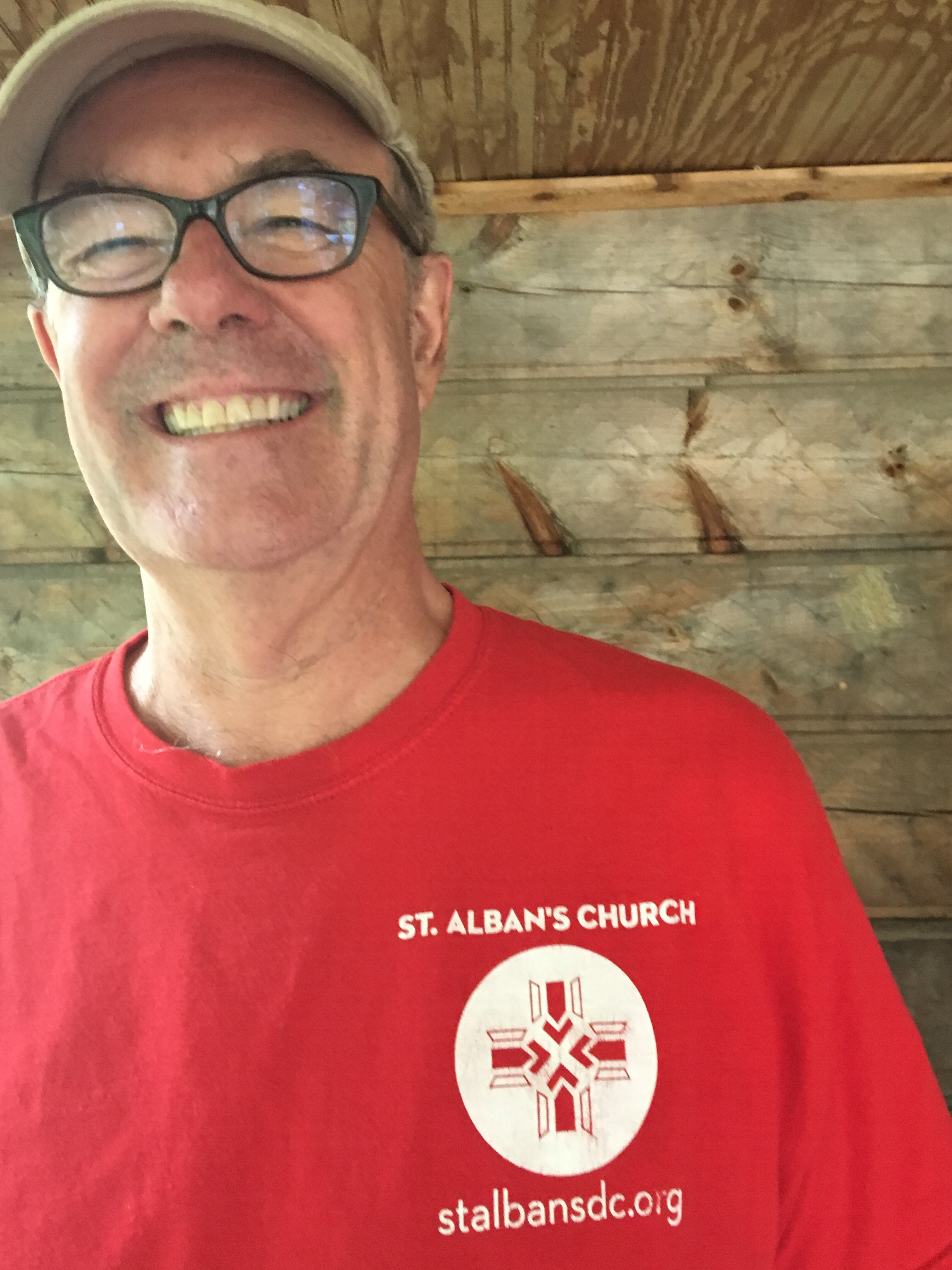 On the first day there was lots of branding from our St. Alban's School troops. Today, without co-ordination, (NO COLLUSION!) we fought back with Allyson in a Diocese of Washington shirt from camp a couple of summers ago and me in one of our famous St. Alban's shirts.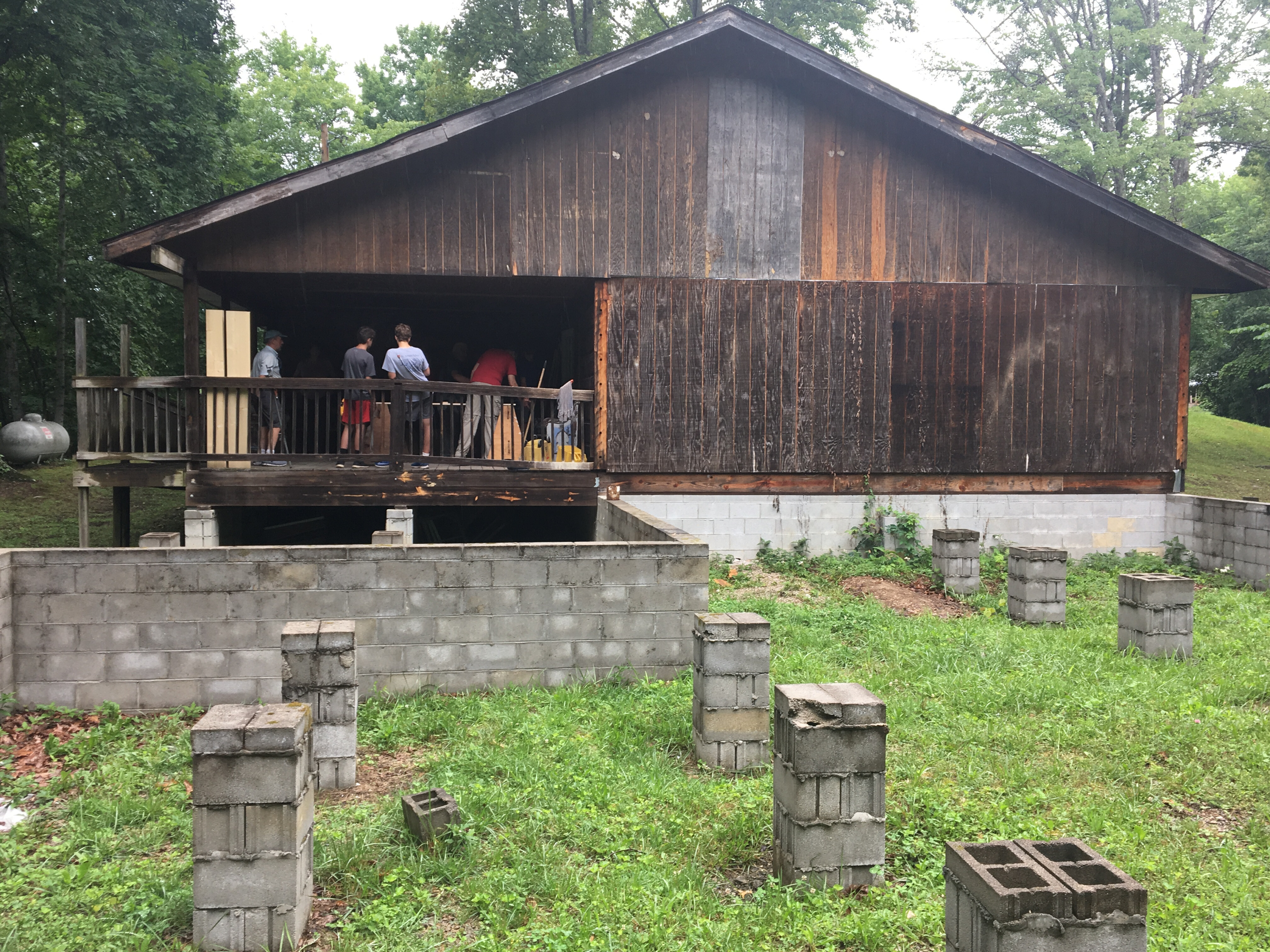 We did much of our work on the back porch of the church building. Here you can see the foundations for an unfinished extension that have been there for some years. The picture was taken from the grove of trees where our host, Bryant, plans to be buried.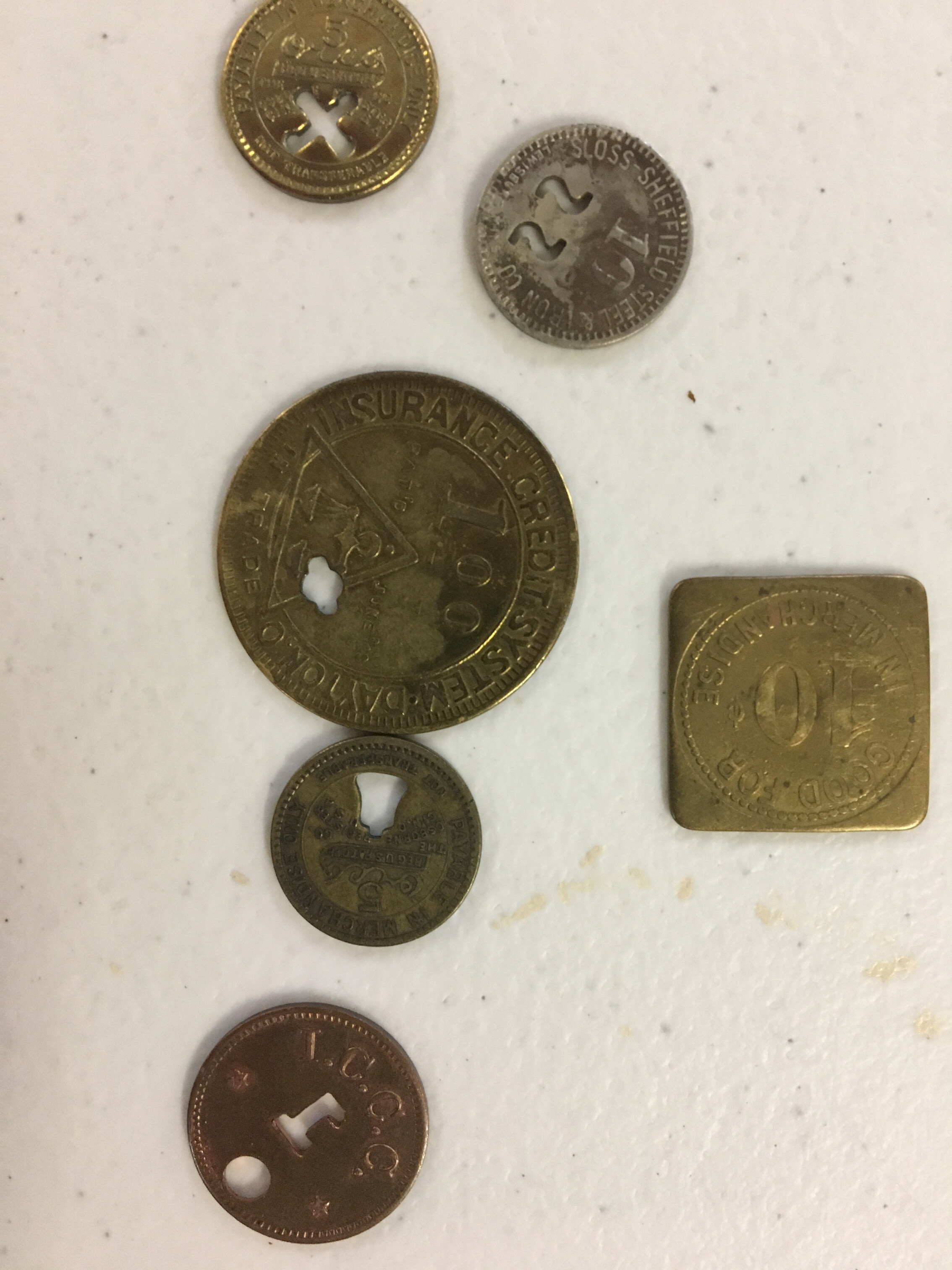 Our lunch break ended with Bryant telling us about the economic realities of Appalachia in general and this area in particular. Barnes Mountain was more about logging for the railroads and tobacco than it was about coal mining, --true of much of the rest of the region. He was keen to point out that many of the corporate leaders were Episcopalian and they were not considered enlightened employers. He shared the common experience of employees living in company housing and shopping at the company store. He has a collection of company scrip.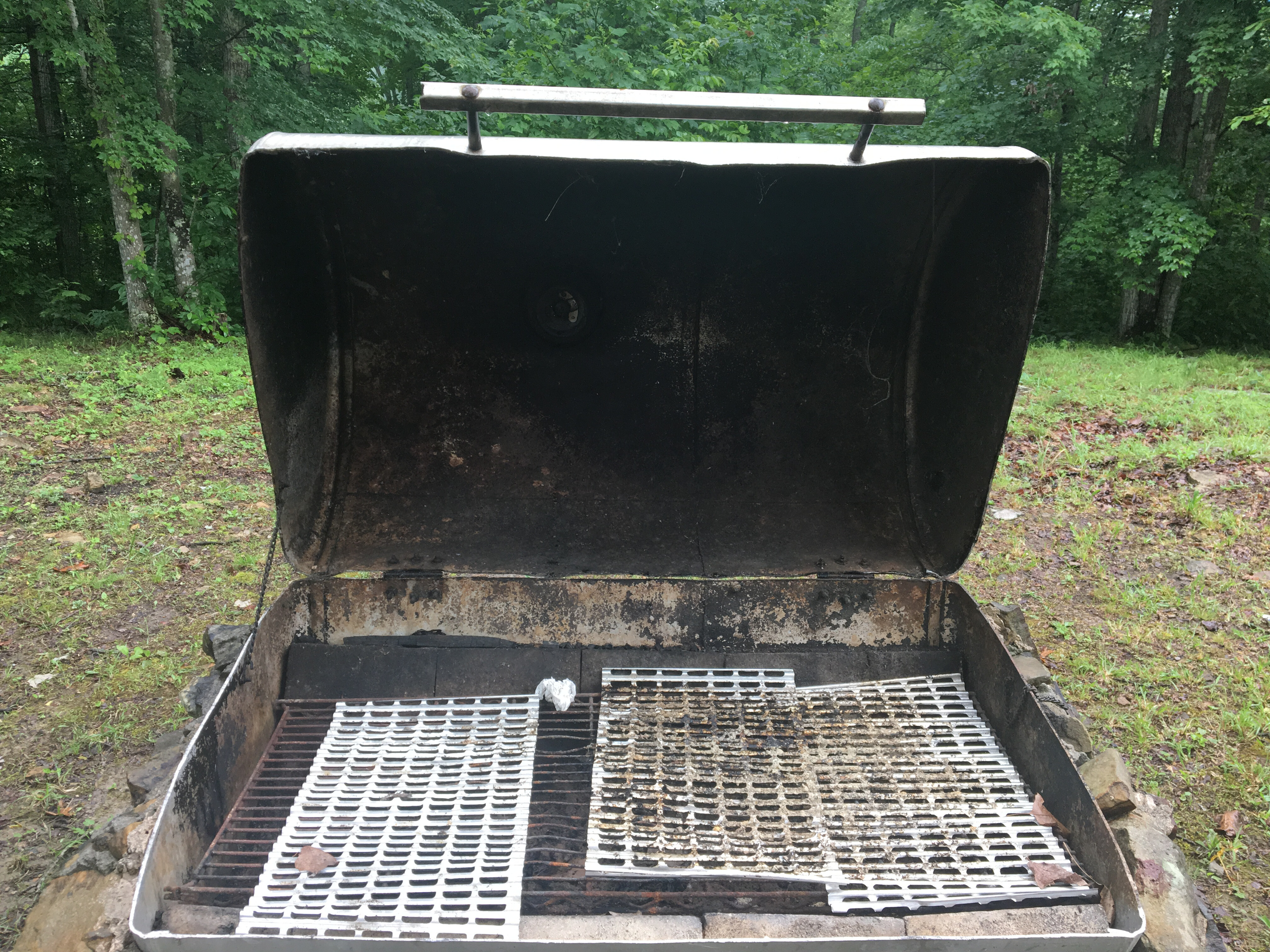 We ended work at about 4 pm and Chris and Charles went down the mountain for supplies so that we could celebrate Teddy's fifteenth birthday with cake and ice cream. The weather permitted a cookout using a grill fashioned from the gas tank of a truck. We made sure that no snakes had moved in and then enjoyed a sumptuous repast of burgers, dogs and the relevant accoutrements.
We had fewer reflections to share during Compline this evening after Tyler read from Romans 12:9-13. " Let love be genuine; hate what is evil, hold fast to what is good; love one another with mutual affection; outdo one another in showing honor. Do not lag in zeal, be ardent in spirit, serve the Lord. Rejoice in hope, be patient in suffering, persevere in prayer. Contribute to the needs of the saints; extend hospitality to strangers."
And so to bed.
Monday, June 17
After a bacon and egg breakfast we were given an orientation and introduction to Appalachia which comprises part of thirteen states with West Virginia being the only state designated as Appalachia in its entirety. We learned about why people settled where they did in the 'hollers' where there was usually water and good arable land. We learned about the main agricultural crops of Native Americans called 'three sisters,' (winter squash, maize or corn, and climbing beans) and how they were adopted by early settlers who came not only from the British Isles but from all over Europe. We learned about how anything made of metal had to be 'imported' and so things such as guns and cast iron skillets were precious goods and in time a plow represented great wealth.
He told us that today we would begin making caskets and spoke about the importance afforded a decent burial in this community, the honoring of family and of the departed, the sense of dignity at the end of life. He urged us even as we worked and joked and had fun, to remember that what we would be doing was important enough that we do it as well as we can. He especially referenced how dull sanding the wood once could be we had assembled the pieces, but that our work would matter to someone at an important time in the life of the community.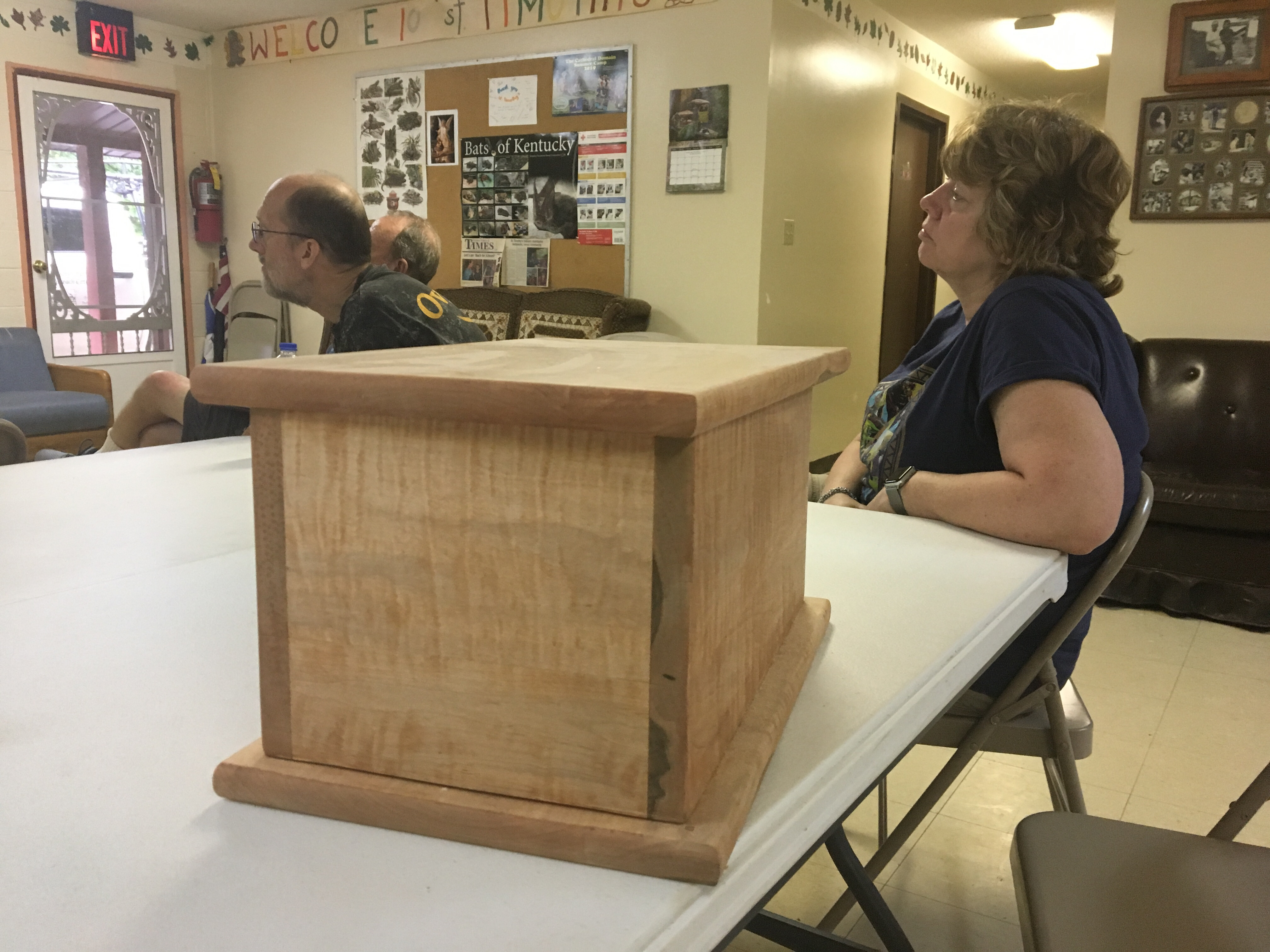 The first one we were to build would be used as a book or display case with removable shelves until it was needed. He apparently has the one he has built for himself in service as a wine rack at his home. He plans to be buried in a grove of trees on this St. Timothy's property. He showed us one built for an infant in which he was currently keeping tools.
We then set about unloading what we need from his trailer—drills, sanders, hammers, screwdrivers and the like—and for a shed on the property, --circular and table saws—and, at last, got to work.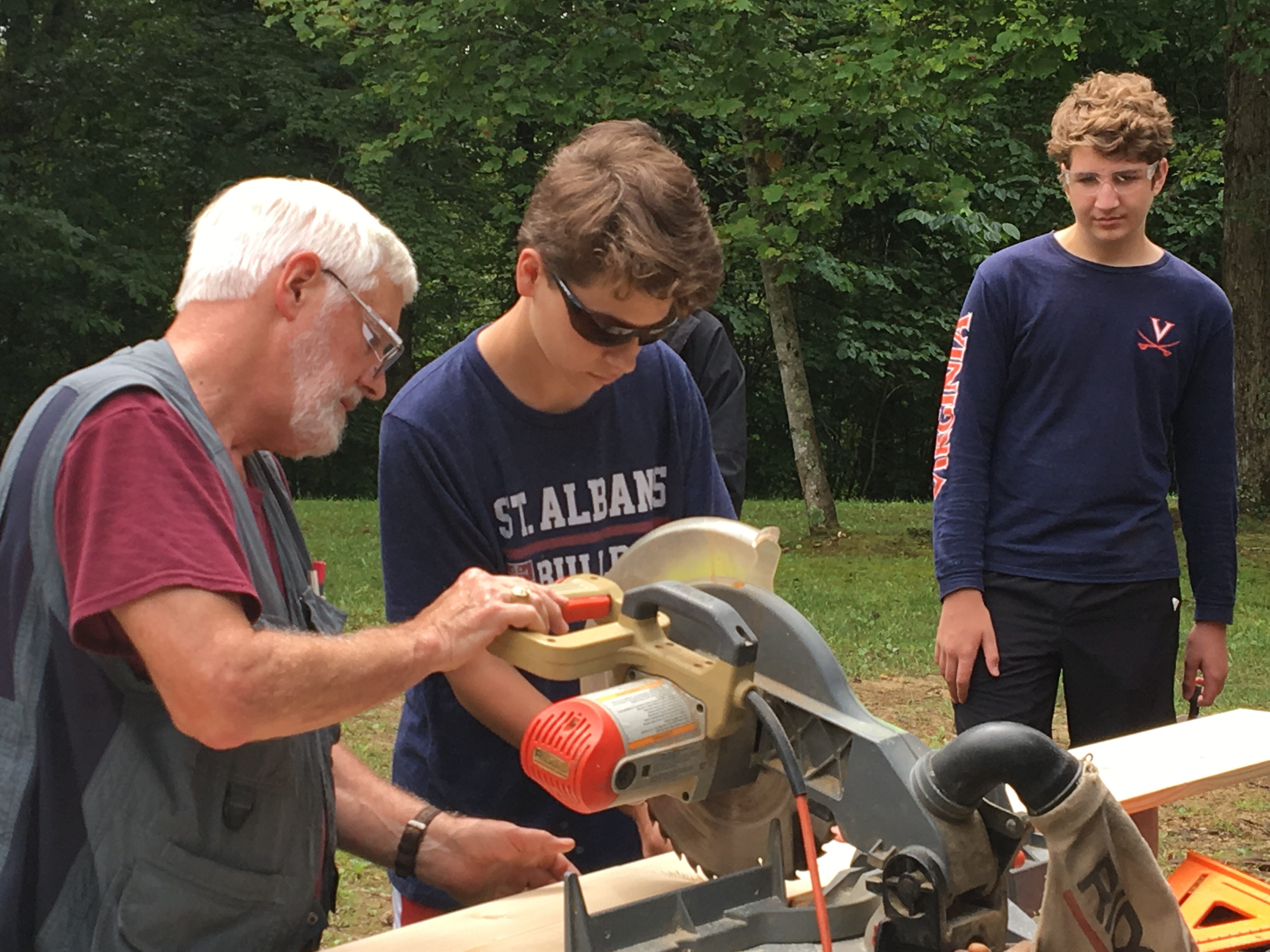 We were reminded of the adage "measure twice, cut once" when one of our crew confused 6' 2" with 62" for which he will take grief all week.
With a storm front coming in we wrapped up fairly quickly about 3:30 p.m. so that the saws in particular would not get rained on. Some napped, others read and three of us went to the Save and Go grocery store to pick up things we had forgotten the day before. We passed the inevitable dollar stores, antique stores and gun store. We also noticed a 'pool supply store' for swimming pools and wondered where were the pools were that needed supplying. St. Timothy's borders the Daniel Boone National Forrest, but it is certainly not a resort and recreation area! There is apparently enough money in the community to support a number of fast food franchises and more than one grocery store. On the drive down the mountain, in contrast to one year ago, we did not see a single Confederate flag, but plenty of American flags, many twinned with University of Kentucky flags. At first there seemed to be fewer husks of stripped-down cars and porches looking as though they were filled with trash than we remembered, but on the way back to St. Timothy's we saw them clearly. Economic fortunes do not seem to change for the better in this part of the country.
After supper of beef, asparagus and potatoes with ice cream for those that wanted it, we repaired to church for Compline. Charles led the singing. George read the Scripture including Acts 13:47 (For this is what the Lord has commanded us: "I have made you a light for the Gentiles, that you may bring salvation to the ends of the earth.") and then each of us took time to reflect on significant moments, observations and learnings about the day as we began to think about what it means to call this a 'mission trip'
Sunday, June 16
After being commissioned at the 8 a.m. service at St. Alban's, a hearty band loaded into two SUVs. We are Tyler Amell-Angst, Allyson Hoare, Geoffrey Hoare, Rich Jensen, George McBride, Charles and Chris Porter, Lily Roslof and Teddy Seidenberg. The drive is about 8 hours plus stops for lunch (Panera Bread,) gas, a huge grocery shopping session at Wal-Mart and dinner (at Melini Cucina).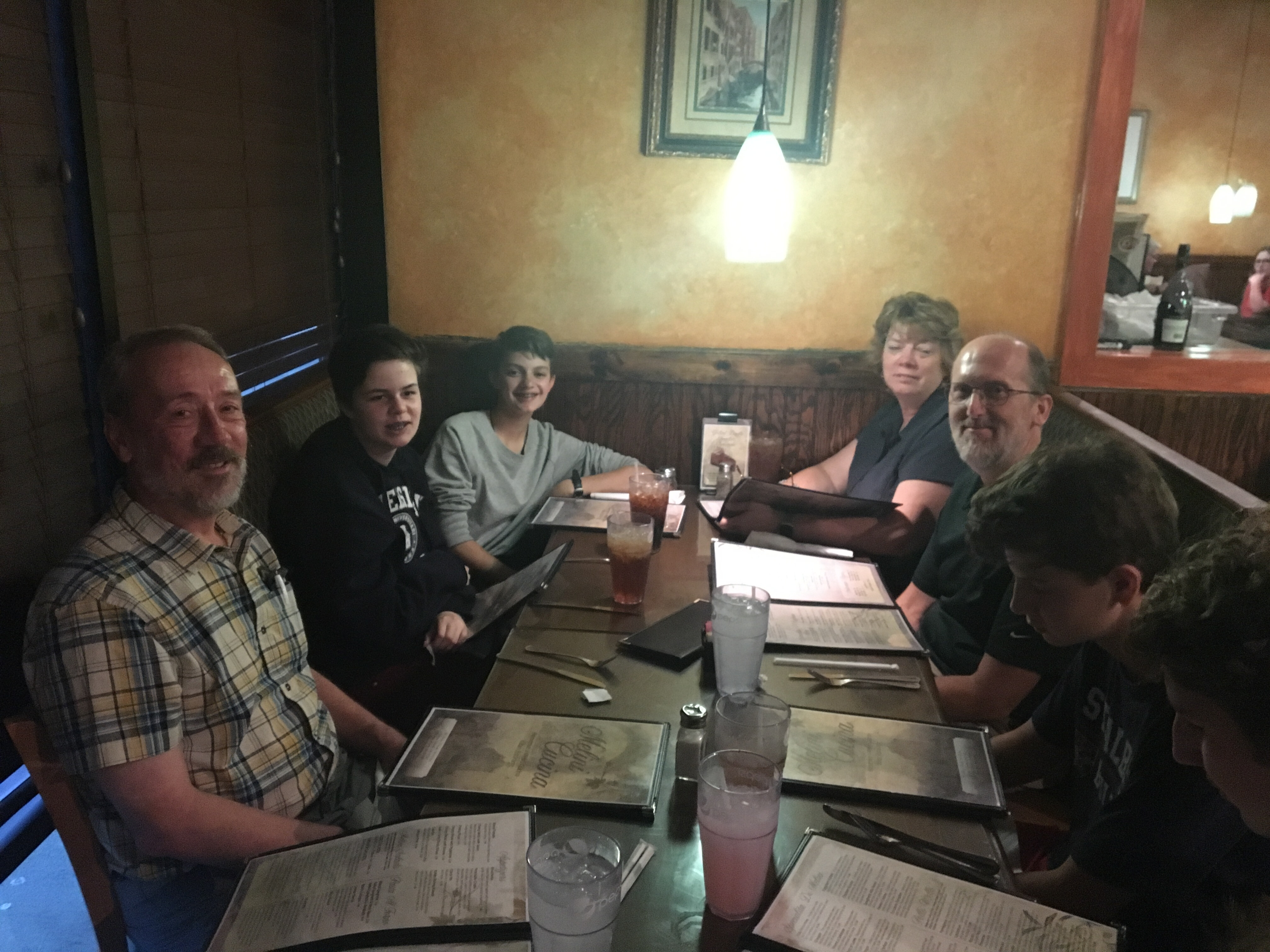 (Not in the picture: Geoffrey and Teddy.) The food would not win any stars on Yelp, but the place was hopping with happy Father's Day families.
One hour after supper we were met by Bryant Kibler, the Archdeacon and administrator of the Diocese of Lexington and "Priest-in-Partnership" with the people of St. Timothy's and some other nearby missions. He gave us our instructions about the center and warned us about snakes. The difference between a venomous snake and a poisonous snake is that "if a snake bites you and you die, it is a venomous snake. If you bite the snake and you die, it is a poisonous snake."
He told us that it is supposed to rain all week and that we would begin, as last year, building caskets. (A coffin is tapered—think Dracula—and a casket is not. A churchyard is attached to a church, but a cemetery is not.) Most people up here cannot afford to be buried and it is a much valued and appreciated ministry of St. Timothy's to provide these caskets.
The center is pretty spartan--bunk beds and live out of your suitcase—but adequate and after making up our beds we all conked out quickly.