Know Thyself... Questions of the Oracle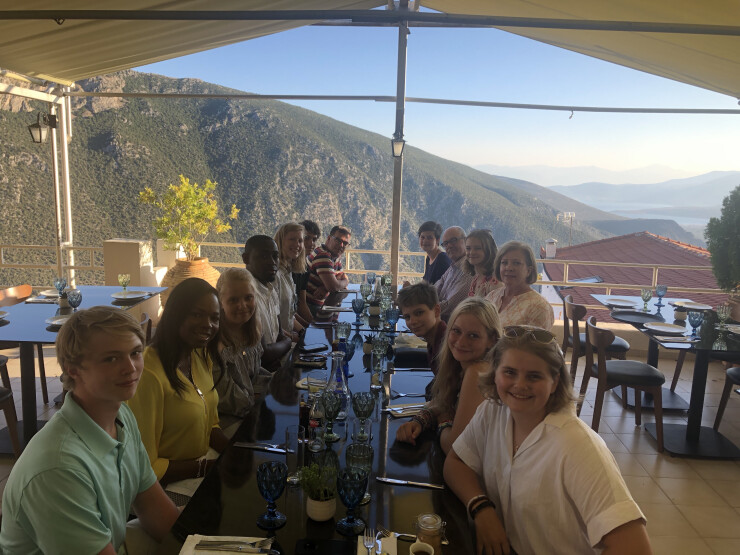 Alarms went off at 8:30 this morning for a 9am breakfast. Everyone seemed very tired, but ready to start a new day. We walked through the small town of Delphi, on the side of the road, to a small cul-de-sac off of the sidewalk. We gathered there for communion. We stood in a circle as we read scripture and served each other communion. Afterwards, we walked back toward town to go to the Oracle Museum. While walking through the museum, I realized just how mysterious and amazing God's work is. God left us these pieces of the past, and we are able to see them together. All of these beautiful pieces of art and breathtaking sculptures, all being preserved for so many years, truly, revealed the power that God has.
At 11:30, we headed back into town to grab some lunch at a small restaurant. It was very quaint, but absolutely delicious. As we walked back to the ruins, we were asked to think about what our question to the Oracle might be. Of course, this assignment proved to be very difficult. There are so many questions that I wanted to ask, but I could only choose one. We had 40 minutes to roam the ruins before going, one-by-one, to the temple ruins and asking our questions.
Like most of the ruins we have seen on this pilgrimage, there were broken columns, torn down buildings and random rocks; but there was something different about being here. This was the place where the people could supposedly talk to the gods. People had travelled thousands of miles on foot just to ask a single question. The ruins looked like any other archeological site, but they had a feeling radiating off of them that just felt like God was there with you.
While each pilgrim went to ask his or her question, we sat as a group in silence, a time of reflection, prayer, and thought. When it was my turn, I got up and walked to the stones by the temple to have a seat. I was very nervous. In church we do a lot of sitting, standing, and praying, but this time it felt different. There were very strong winds, which made me feel like God was there with me, that He was listening, and that I would get my answer. In church, everyone is praying at the same time, and I get scared that my prayers get lost in the shuffle. But, at the Oracle, in front of the temple, I knew God was with me, and I knew He was listening to what I had to say.
After everyone went to pray alone, we split off into a group that was going back to the hotel, and a group that was destined to find the cave of the Oracle (which, we now know, does not exist). Griffin, Foster, Eric, Valerie, Allyson, and I walked all the way up the hill and got to see the Gymnasium Arena, it was very big, and very well preserved. It was so much fun taking pictures and getting to know everyone just a little bit better.
Dinner was at 6:30, at a very nice restaurant right down the street. Everyone got a little dressed up, and we looked like a pretty good group! Dinner was fantastic, and the view was spectacular. Dinner was a great time of reflection for the whole group. We all shared our experiences when asking our questions, and we loved discussing the crazy strong winds.
All in all, the day was very action-packed, but also a very spiritual experience for the pilgrims. I know that being able to be in Greece is such an amazing blessing, and I feel so grateful that I was able to feel God with me today.