Finding God Outside of the Ordinary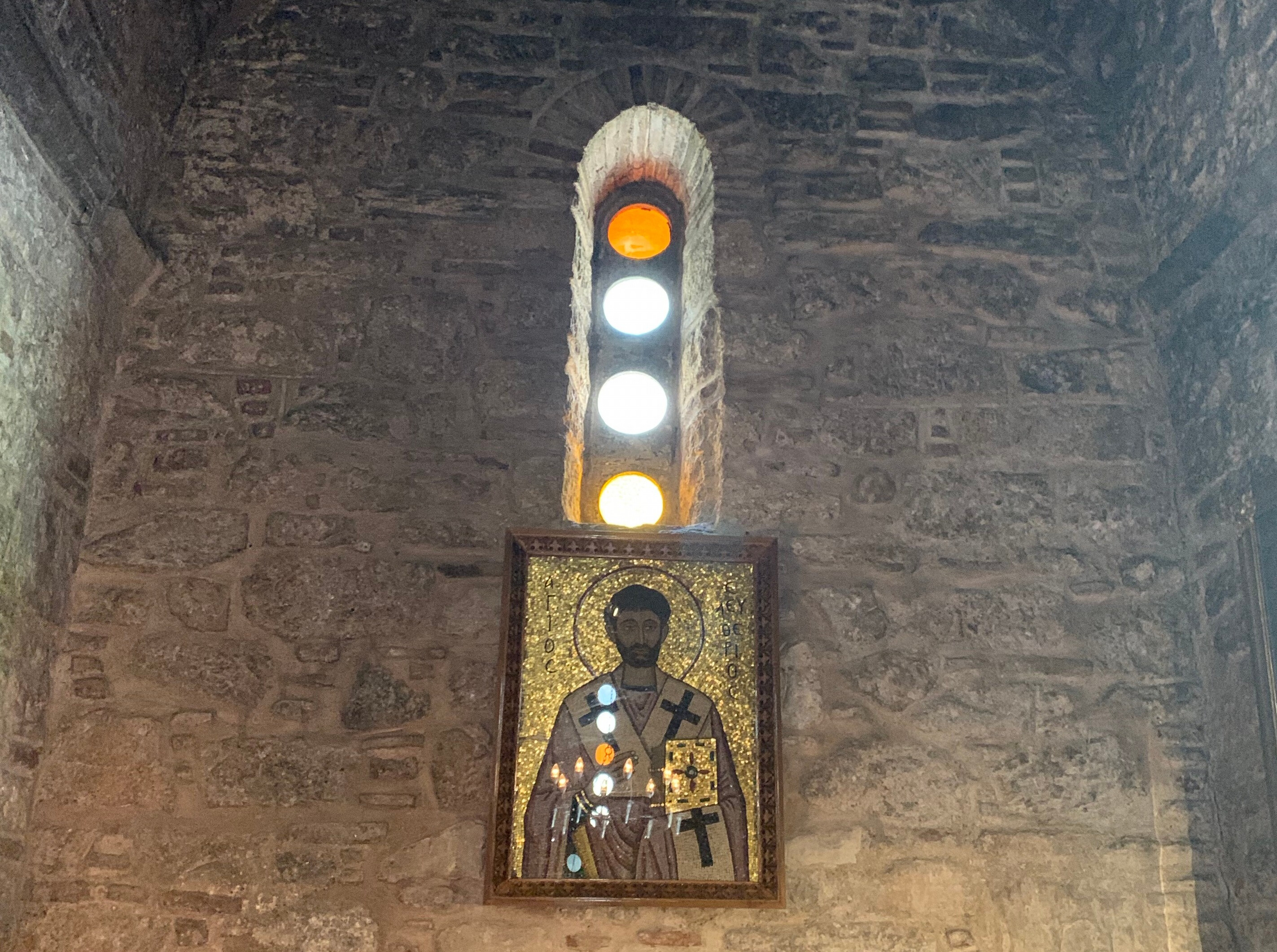 7:45-The day begins again with worship reminding us of God's will and the strength of his navigation in our lives (fitting as the day will be spent navigating to Delphi). As we end our praise, we begin our walk, our hands full of luggage and our faces gleaming at each store paving the athenian landscape. We walk to the sight our bus will pick us up and deliver us to our newest adventure. As we wait, I feel distinctly uneasy, an emotion not lost on many other pilgrims. We don't say anything, but we don't need to since our expressions say what we're all thinking, "when is this bus coming?!" Though after what had seemed like a few milleniums our driver finally arrived and we made our way.
To say the drive was worth the wait would be an understatement. I constantly caught myself in an impenetrable state of awe, pressing my face against the bus's glass window I grew to hate as it separated me from the inconceivable beauty of God's creation. The mountains stood like soviet soldiers, tall and proud, the ocean's waves crawled to the shore, entrancing all of us in it's dormant strength. Mesmerized by the new world around me, I became mesmerized by God's power to create such a beautiful world.
We traveled through many towns and eventually our bus took what I thought was a wrong turn into a train station. I learned we would be taking the train (my favorite form of transport, a reminder of my NY past) up to a quaint town alongside the gorges of Kalavryta. It was one of those small european trains with a conservative amount of legroom but that downfall was easily overlooked as soon as we began the ride. The only words my mind could conceive in response to the vibrant natural beauty of the mountains were "this is insane." The train crept around the corners and crevices of mountains, going in and out of caves, above streams, and below a bright blue sky. I began to wonder when Julie Andrews would pop out and begin singing "The Hills are Alive." I sit turning my neck in each direction scared of missing the beauty God had so clearly given us that by the end of the train ride my neck was so cramped it felt like I had been carrying lopsided bricks. What can you do though, sometimes you have to make sacrifices like giving up the ability to move your neck to experience everything God has to offer.
12:30- The town of Kalavryta is like one of those bucket list European towns you see on postcards and dream of being lucky enough to visit, and by God's grace we are! First order of business is lunch. By now we've realized that there is no shortage of beautiful and delicious places to eat in Greece, and this restaurant is no exception. Souvlaki and Mousaka seemed to be the top picks for our group (the Souvlaki was THE best--but that's just my opinion). This lunch was one of the most memorable moments for me on the trip thus far, not just because the water was so crisp or because the souvlaki was just that good (though it was), but because there was this moment where I just looked up and saw this great group of people sitting in arguably one of the most beautiful European towns eating the most incredible food. I think that's when I realized just how blessed I was to be on this trip and to experience this much beauty. This experience is one that I will never stop thanking God for.
1:15- If there's one thing on the agenda I'm thankful for it's free time. Don't get me wrong the organized group activities are a whole new level of exciting, but having the chance to explore independently allows you to truly reflect and absorb God's nature. After lunch we roam the streets, peeking into shops, and taking an absurd amount of photos that surely gives the locals a reason to despise tourists. Along the stone path, I spot the orthodox church of Kalavryta, mighty and regal, the walls draped in silhouettes of religious characters and the ceilings grasping Versailles chandeliers.
2:30- We return to the bus, feeling God's love ventilating through the air conditioners, prepared for our 3 hour ride to Delphi. The ride was so tranquil, almost the entirety of the bus was asleep. Suddenly we were backing into a titanic sized ship adjacent to a nautical port. We rushed off of the bus, scurry up the boat's stairs, only to be greeted by the beauty of the greek seascape. Feeling the boat's generator trembling under our feet we knew we were about to set sail. The ride was a brief 15 minutes to reach the other side, but those fleeting couple of moments might just be one of my favorites. I stood at the bottom of the boat looking down upon the 2 human-sized propellers and an almost cliche, yet beautiful Greek flag waving against the wind. That was the moment I felt God most. It's almost hard to explain. I kept thinking God is like the wind. I can't see him, but I can feel him. That was the moment I felt him the most.
6:00- After a bus, a train, a bus again, a boat, and then a bus again we were there. We were in Delphi! We settled into our rooms and enjoyed the feeling of settlement after a day of traveling. We then walk the streets of Delphi till we reached our restaurant and have yet another satisfying Greek dinner. We then had a quick wrap up to our day after a reflection period. Looking back at the day I realized how much closer I felt to God. First in the mountains and the sea where I saw God's power in his creations, at lunch when I realized how God has blessed me, in the church where I saw God's glory materialize into a sacred space for worship, and finally in the wind where I felt utter confidence in my belief in God and what he has set out for me.