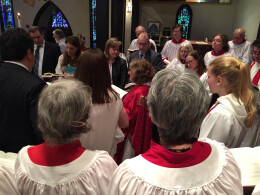 At St. Alban's Church, worship is the foundation of our common life.
In our prayers, praises and singing we are bound together and brought into a more intimate relationship with Jesus Christ. Our worship shapes us into the people of God. We are people who are aware of God's love, aware of the Spirit moving in our midst and are ready to follow that Spirit out into the world to share the Good News of God's love.
Service Times
Our regular Sunday worship schedule is the following (Please note: Service times may be changed during the seasons of Christmas and Lent and during the summer. Please refer to our calendar to confirm the times.):
8 a.m. (English) in the Church
9 a.m. (English) in the Church
11:15 a.m. (English) in the Church
11:15 a.m. (Spanish) in Nourse Hall (same building as the Church)
Music
There is a way for everyone to be involved — whether as a dedicated choir member, an occasional instrumentalist, or an enthusiastic congregational singer. Adults and children are welcome to make music at St. Alban's. Learn more.
Recent Sermons
Missed a recent sermon or want to listen again? Click here.
Baptism, Marriage, Confirmation, and Funerals
These ceremonies of the church acknowledge God's presence in our lives and help to mark these meaningful moments with worship, praise, prayer and celebration. Learn more.
Opportunities to Serve in Worship
Would you like to be a part of a worship service or help with the preparation of the worship space? Learn how.