News Archive
Missed something on the latest news page? Here's an archive of St. Alban's happenings.
WELCOME THE NEWLY BAPTIZED
The 9:00 a.m. service on Sunday, September 24, was a festival of baptisms as we welcomed six new brothers and sisters in Christ. Rev'd Geoffrey and Rev'd Emily took turns as the families and godparents of three infants and three young children being baptized gathered around the font.
We've added a gallery of wonderful photos (thanks to photographer extraordinaire John Thorne).
ST. ALBAN'S GETS AROUND
Our new St. Alban's t-shirts are popping up all over thanks to summer travel. For those not following us on Instagram, you can see collected photos in a new gallery.
If you're out and about in your St. Alban's t, send a photo to Deborah Potter and she'll add you to the gallery. No names are mentioned in these posts but we do like to know the location.
This photo was taken at Animal Adventure Park in Harpursville, NY, on a visit to April the giraffe who held the internet enthralled all during Lent.
NEWS ABOUT THE REV'D DEBBIE KIRK

You might have heard by now that we have secured the pastoral leadership for our Spanish liturgy community of San Albano for the next two years. We have been able to do this by funding the previously unfunded 'leg' of our vision for Global Mission. You might know that we have undertaken to support work in relationship with schools in Africa and the Middle East (continuing our commitment to transforming the lives of children). The third part of that vision was to work with people from Mexico, Central American and South America but to do that in the greater DC area. The Rev'd Debbie Kirk, now Associate Rector, will spend half her time effecting our Global Mission in this area by working at, in, and through
CASA de Maryland
. This is an outstanding organization with opportunities for many of us (Spanish-speaking and not) to engage the work. Debbie has already begun that work and will be reporting regularly and inviting us to work with her.
This creative decision was driven by both a practical challenge (how to provide pastoral and liturgical leadership for San Albano) and ministry opportunity (the third leg of our vision for Global Mission) and is done with support of the leadership of God's Work in the World and our Wardens and Vestry.
Please congratulate Debbie as she begins this new phase of her ministry among us.

Sincerely,
Geoffrey
PROPERTY UPDATE
A contractor has installed a French drain in the raised flowerbed on the Wisconsin Ave. side of Nourse Hall to try to eliminate the water that has been seeping through the wall and damaging the plaster inside. On a related note – doesn't that flowerbed (as well as others around the church and Satterlee Hall) look wonderful! Many thanks to Lucy Fraser and all of the volunteers who continue to offer their time and TLC to beautify our grounds.
A major cleaning and refurbishment is underway on our organ. The builders, DiGenaro-Hart, are removing, cleaning, and repairing all of the thousands of pipes, replacing some of the electronic and mechanical controls, and moving some pieces around to provide more flexibility in range and tone for Justin's inspired performances. But don't worry – the work is being done in phases and we have been assured that we will always have sufficient organ for services. The work is scheduled to finish by the end of August so the organ will be ready in all its glory for the beginning of the program year.
SOME SENDS THANKS
So Others Might Eat has sent a letter thanking St. Alban's for our 33 years of service to this ministry. Many of us provide casseroles and fresh fruit to SOME one Sunday each month and it all adds up. "We could not address the hunger crisis in our city without your support," the letter says. "The lunch we receive monthly from Saint Alban's for the men, women and children who come to SOME enabled us to provide 230,741 meals in our dining room and 51,645 meals in our housing programs last year."
Special thanks to Marty and Faye Kerns, the coordinators of this ministry!
ASP MISSION TRIP
St. Alban's sent a team of 13--eight youth and five adults--on the annual mission trip to work with the Appalachia Service Project in June, 2017. We traveled as a group with other churches in the Diocese of Washington to St. Paul in Southwest Virginia, and worked on a variety of projects. At a forum on July 16, our missioners shared a video about their trip.
GLOBAL MISSION REPORT
St. Alban's works with people in need around the world and with people from around the world who face problems in our community. These efforts are coordinated by the Global Mission Committee, which has just issued its annual report. Their work focused on helping our partner schools in Jordan and South Sudan, assisting refugees and immigrants here at home, and maintaining interfaith contacts and dialogue.
ANNUAL MEETING & ELECTIONS
The annual meeting was held on Sunday, June 4, in Nourse Hall. A quorum was present. No votes were taken. The Rev'd Geoffrey Hoare, Priest-in-Charge, reported on the state of the parish and discussed challenges and opportunities on the horizon. Read more.
Our new Vestry members, elected to three-year terms, are Jane Schubert, Michele Bond, Emily DiBari and Adrienne Allison. Our new Diocesan Delegate is Ted Swett. The Vestry expresses gratitude to these parishioners and to all who stood for election.
WE'RE SOCIAL AT ST. ALBAN'S
St. Alban's loves sharing and we're doing it in lots of new ways. You can now find us on Instagram and YouTube. We have an active, public Facebook page, where you can find out what's happening at St. Alban's. There's also a Facebook group you can join to have conversations with fellow parishioners. Sermons are available on our website and mobile site, and as a podcast on iTunes, Stitcher, GooglePlay or wherever you get your podcasts. Please follow or subscribe to all of our channels so you'll know when new content is posted.
STRAWBERRY SUNDAY
Our first ever Strawberry Sunday on Memorial Day weekend 2017 was a huge hit. Thanks to all the volunteer berry slicers, whipped cream bringers, pie bakers and ice cream scoopers.
The weather couldn't have been better, so we all gathered on the columbarium patio. What a great way to celebrate our first-of-the-season 10 a.m. service.

Strawberry Sunday may just have to become an annual event!
THANKS, GARDEN GUILD
Thanks to all the volunteers who came out on Saturday, May 20, to help weed and add new plantings to the many gardens around our church buildings. Everything looks beautiful. If you weren't able to join us, here's a video glimpse of what you missed.
GALA SUCCESS
Our annual gala and auction dedicated to our Transforming the Lives of Children initiative was a smashing success. We raised more than last year for our three beneficiaries: Harriet Tubman School, Hope and Resurrection School (South Sudan) and St. Saviour's School (Jordan). Here are the details on how the money was used. Photos from the evening are posted here.
Thanks to everyone who attended, donated and bid on 2017 auction items, assisted with set-up, tending bar, serving and clean-up, and special thanks to the organizers: Julie Clements-Smith, Abby Davis, Dudley Winthrop, the auction guru, and Donna Palmer, who made the raffle possible.
ORGAN REPAIRS
Don't be surprised if you see organ pipes in unexpected places over the summer of 2017. It has been nearly 20 years since St. Alban's organ was rebuilt and installed into its current location. A major cleaning and refurbishment is beginning this month on this marvelous musical asset (the replacement value is north of $1M). DiGenaro-Hart, the builders of this latest incarnation, will be removing, cleaning, and repairing all of the thousands of pipes, replacing some of the electronic and mechanical controls, and moving some pieces around to provide more flexibility in range and tone for Justin's inspired performances. But don't worry – the work will be done in phases and we have been assured we will always have sufficient organ for services of any type. The work is scheduled to finish by the end of August so the organ will be ready in all its glory for the beginning of the program year. Questions? Just ask Junior Warden Rich Turner or interim music director Justin Boyer.
SPECTACULAR SHROVE TUESDAY
Thanks to our Rite 13 youth and leaders for a fantastic feast on Shrove Tuesday 2017. Trenbath was packed with parishioners and guests, including about 40 students from Paul Public Charter School in DC, who found out about our annual celebration on the church website. The crowd enjoyed three kinds of pancakes--plain, blueberry and chocolate chip--plus sausages and fruit salad. There were beads, masks and other traditional Mardi Gras decorations aplenty. More photos of the event are online here.
WELCOME OUR NEW PRIEST-IN-CHARGE
St. Alban's welcomed the Rev'd Geoffrey Hoare with an Evensong service and reception on February 26, 2017. Under the priest-in-charge model, he and the Vestry have agreed to a three-year commitment. At about the halfway point – in 18 months – we will mutually discern whether he should become our rector. Read more about Geoffrey here. More photos of the event are online here.
MUSIC ADVISORY GROUP REPORT
A Music Advisory Group, formed during the interim period and tasked with seeking a comprehensive understanding of the music at St. Alban's, presented their final report to the Vestry on February 15. The report may be viewed here.
A CHRISTMAS TO CELEBRATE 2016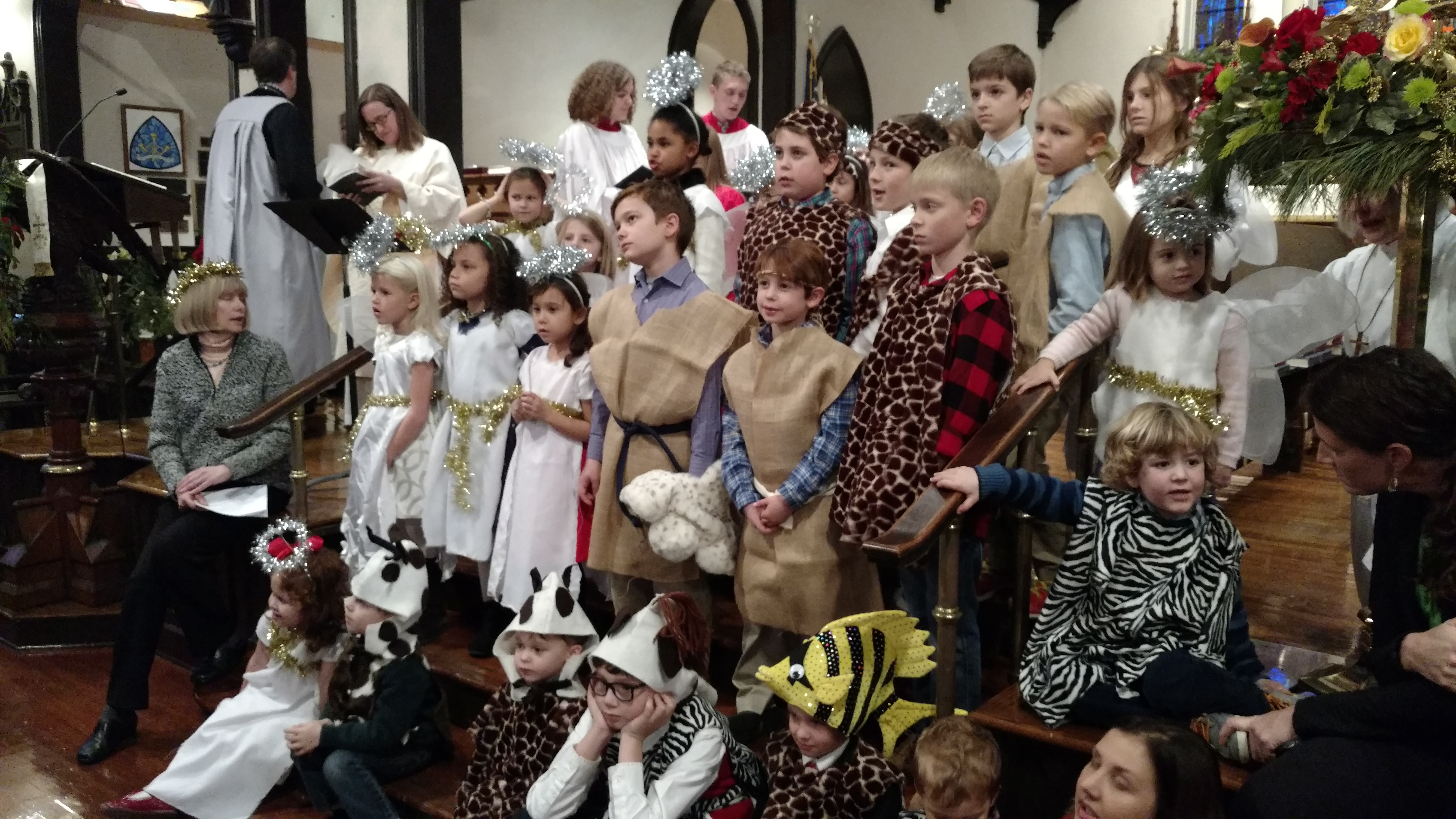 St. Alban's sanctuary was packed on Christmas Eve, especially for the 4 p.m. service featuring the children's pageant. This year's program, The World Sings Noel, was produced by Amie Vandersluis, with the help of angels, shepherds and friendly beasts of all shapes and sizes. Special thanks to our narrators, Annie and Matthew! More photos are available here.
On Christmas Day, Satterlee Hall was filled with joy as we served a delectable dinner to our neighbors. More than 175 guests, friends and parishioners feasted on turkey with all the trimmings and pies galore. An impromptu chorus joined our guest pianist in song. Santa came too! Many thanks to all who helped, including the Mattheis, who organized, and kitchen captain Phoebe Jane Winthrop. It was fabulous all around! View more photos here.
OP SHOP SETS A RECORD IN 2016
Congratulations to all who pitched in to help our Opportunity Shop set a sales record in 2016. The shop raised $298,000 for charitable donations. Thanks to Op Shop manager Laura Ferrara and the many volunteers who accept and price donations, staff the shop floor and ring up the sales. Thanks to the many members of St. Alban's who donate amazing clothes, housewares, books and other goods to make the Op Shop THE place to shop in Northwest DC. And thanks to everyone who shopped at the Op Shop in 2016. Come on back as often as you like. They're open Tuesday through Saturday!